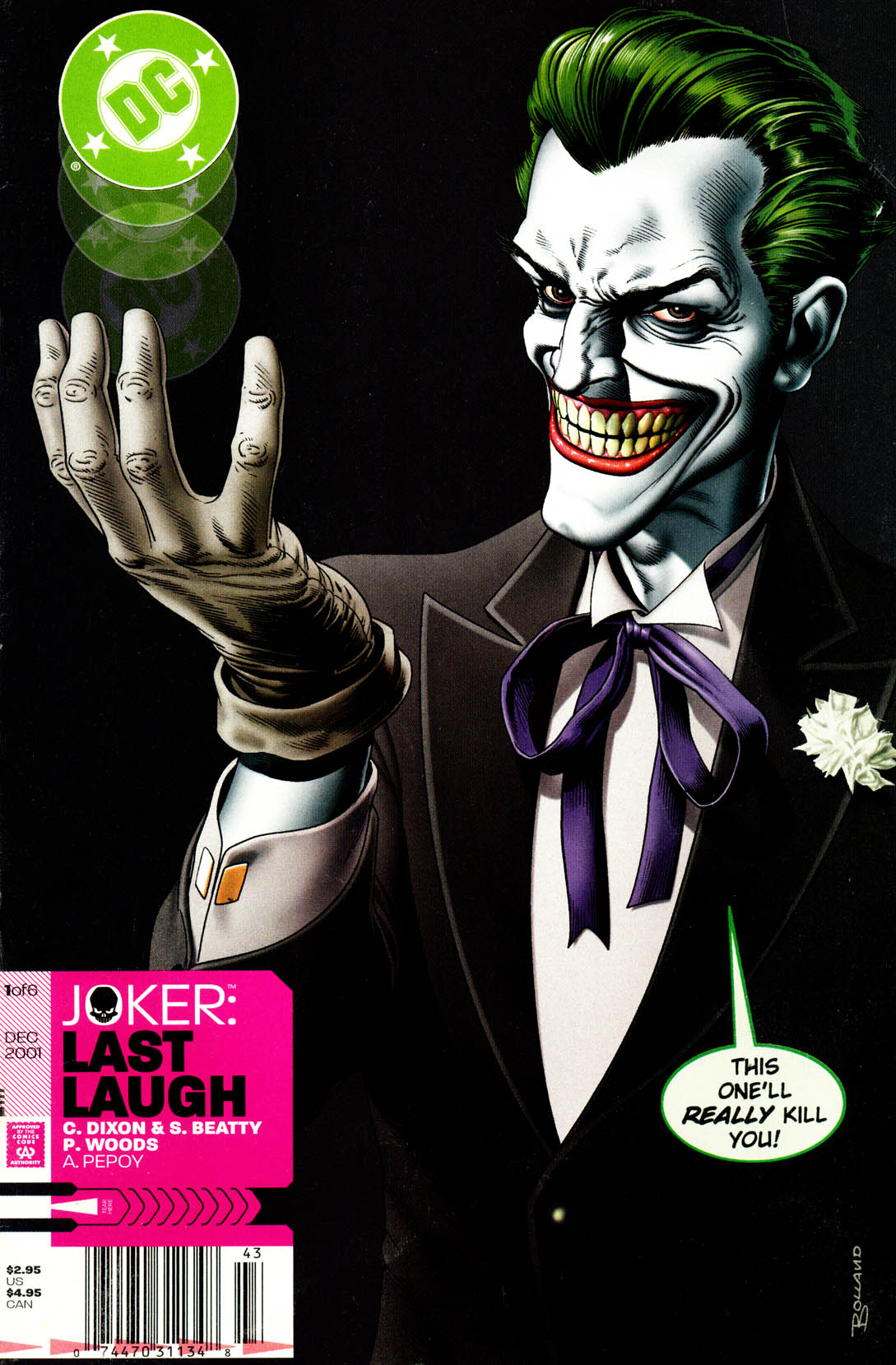 Nightwing és Oracle még mindig randizik, semmit sem tudnak a kitört lázadásról. Arról az Óratoronyba hazatért Fekete Kanári értesül elsőnek,
és Blue Beetle segítségével egyből bevetésre is indul.
A SLABban ezalatt Shilo és Dina (a másik) próbálja megoldani a helyzetet. Persze most jönnek csak rá, hogy Joker nincs a cellájában, hanem helyette azt az alakváltó izét, Chillert vitték vissza. Az persze nem volt gyanús, hogy közben az ebédlőben egy másik Joker is akciózik.
Nightwing és Oracle randija eljut a csúcspontra, megvitatják az élet nagy dolgait. Oracle sérelmezi, h ők miért tartják be a szabályokat, hogyha a rosszfiúk nem. Nightwing szerint, mert akkor nem igazságot szolgáltatnának, hanem csak bosszút állnának. Barbara szerint viszont mind bosszúállásból lettek igazságosztók, kivéve őt, aztán tessék, belőle lett kripli, a fiúk mind hősködhetnek, ő meg maradhat könyvmoly. És igen is holtan akarja látni Jokert (mivel már rég említettem, és talán nem mindenkinek egyértelmű: Joker bénította meg Barbarát, az akkori Batgirlt a Gyilkos tréfában.)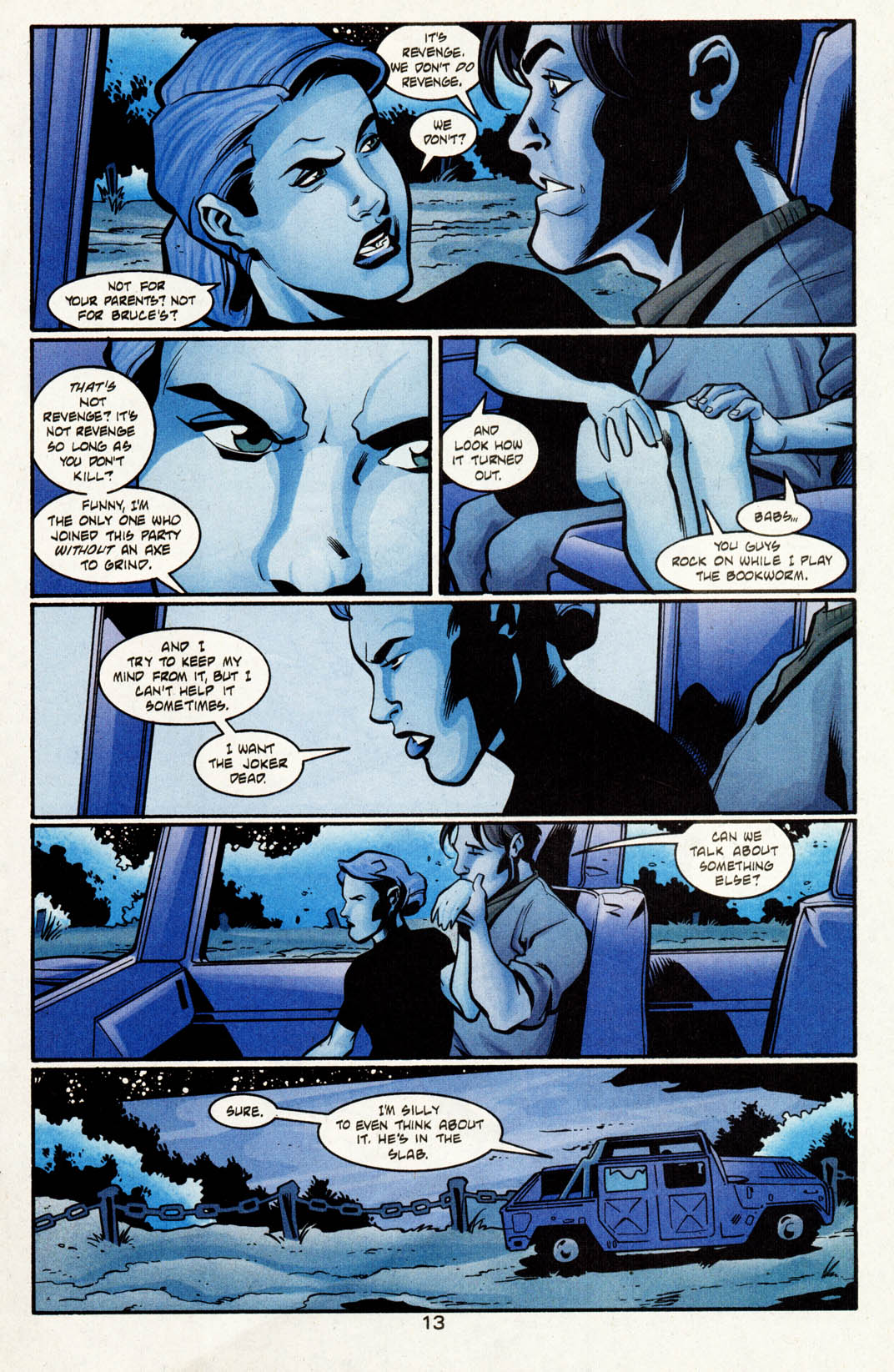 Joker eközben kitartóan öli meg újra és újra Multi Mant, hogy végre egyszer olyan szuperképességgel szülessen újra, amivel ki tud szabadulni a rabokat kordában tartó nyakörvtől.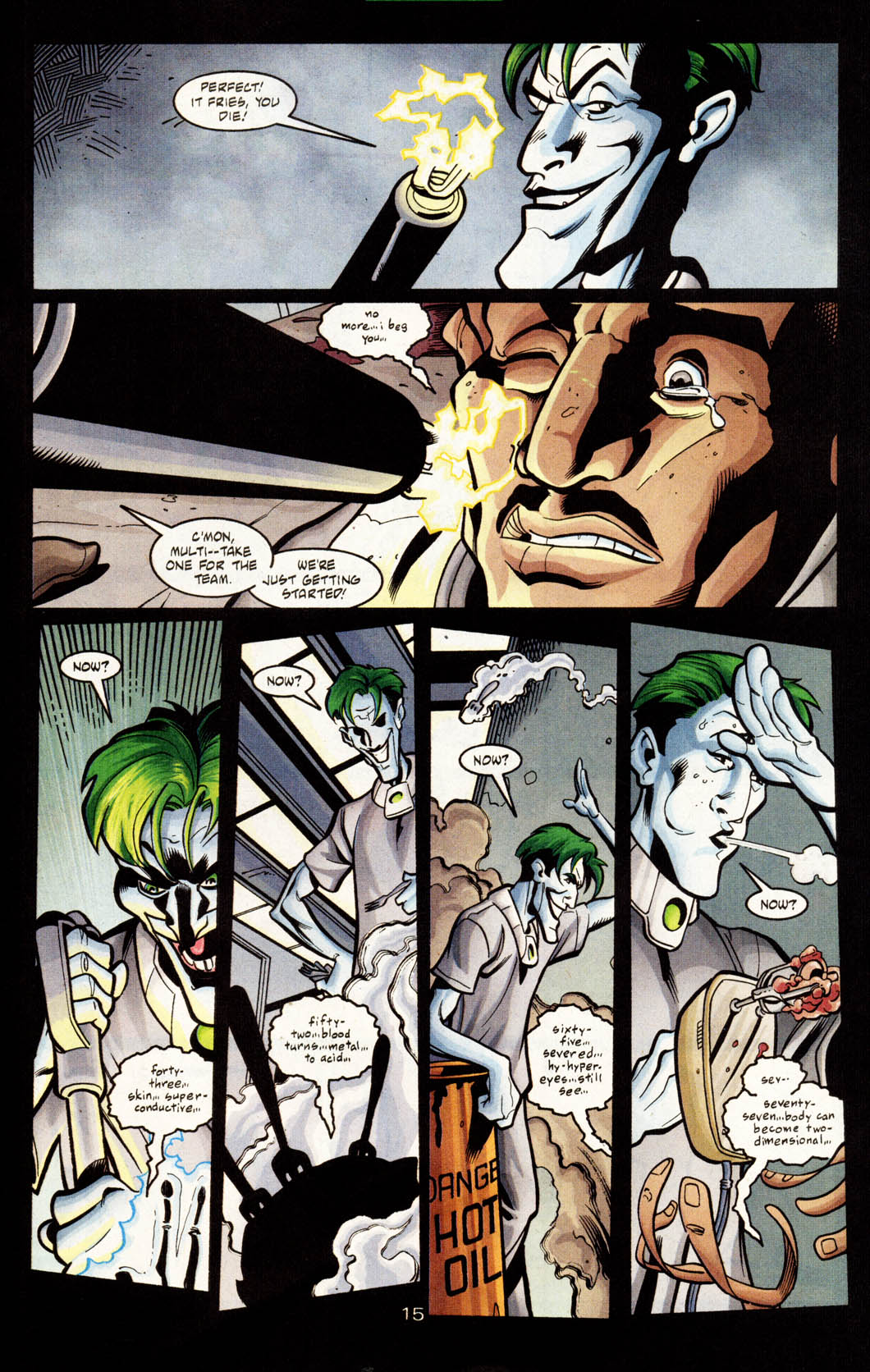 Miután ez sikerült Multi Man és egy termeszpofa, Hellgrammite segítségével kiszabadítják Doctor Polarist, aki polarizáló képességével már mindenkit meg tud szabadítani a nyakörvétől. Erről értesülve az őrség úgy dönt, hogy végső fegyverként ideggázt vet be a rabok ellen, bár Shilo érzi (csak, hogy róla is írjak), hogy ebből semmi jó nem fog kisülni. És tényleg, egy fatális véletlen folytán az ideggáz az utolsó összetevője a Joker-gáznak, azokon a kemikáliákon felül, amiket a rabok kaptak, hogy kordában tartsák szuperképességeiket, így mire a gázfelhő elült, az összes rab Jokerizálódott.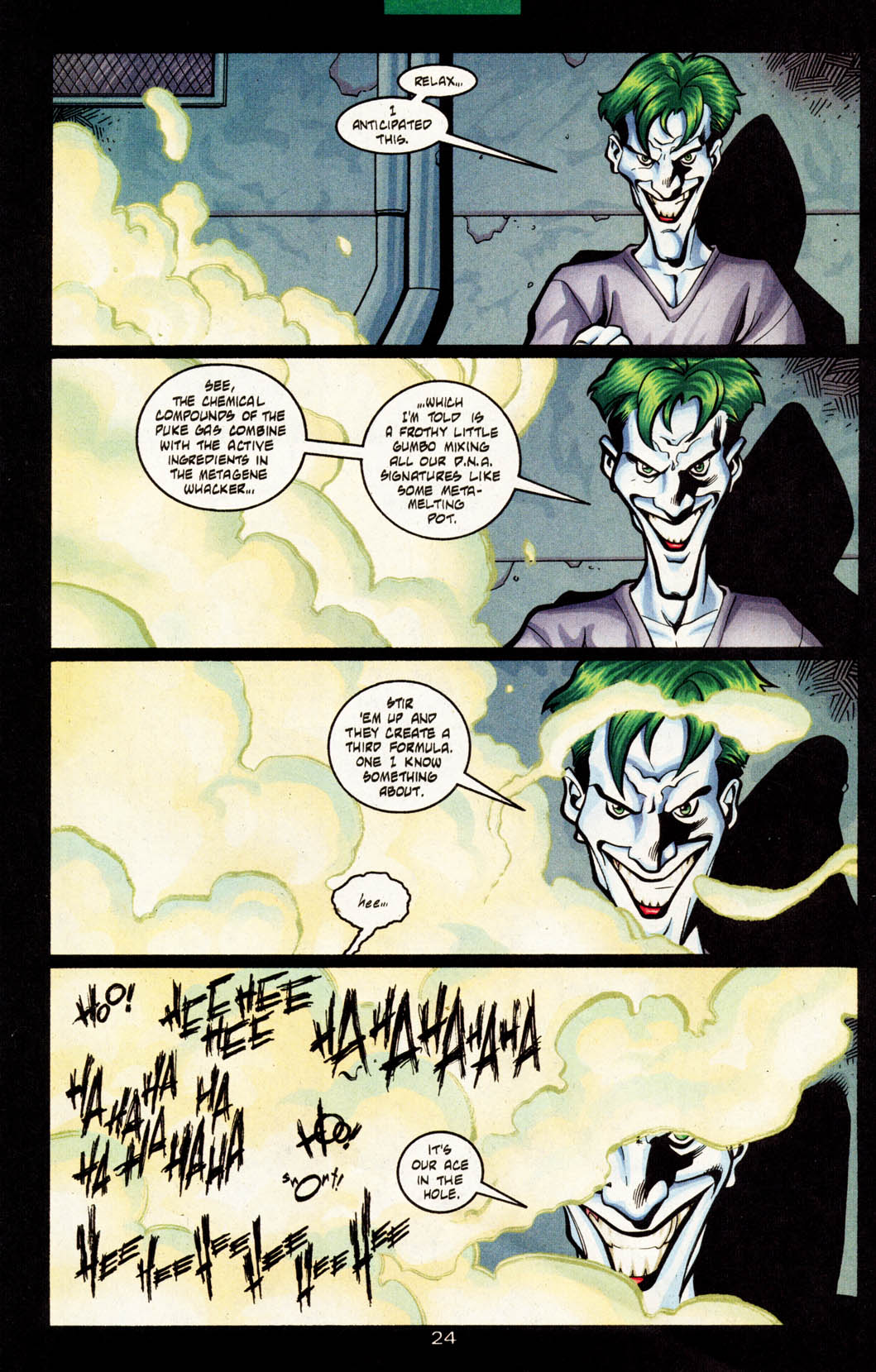 HA-HA-HA!
Nightwingék is pont ekkor érnek haza, és Barbara döbbenten látja, hogy miről maradt le.
Az utolsó képen pedig Batman figyeli távolból a SLAB szigetét, miközben a nevetés odáig hallatszik.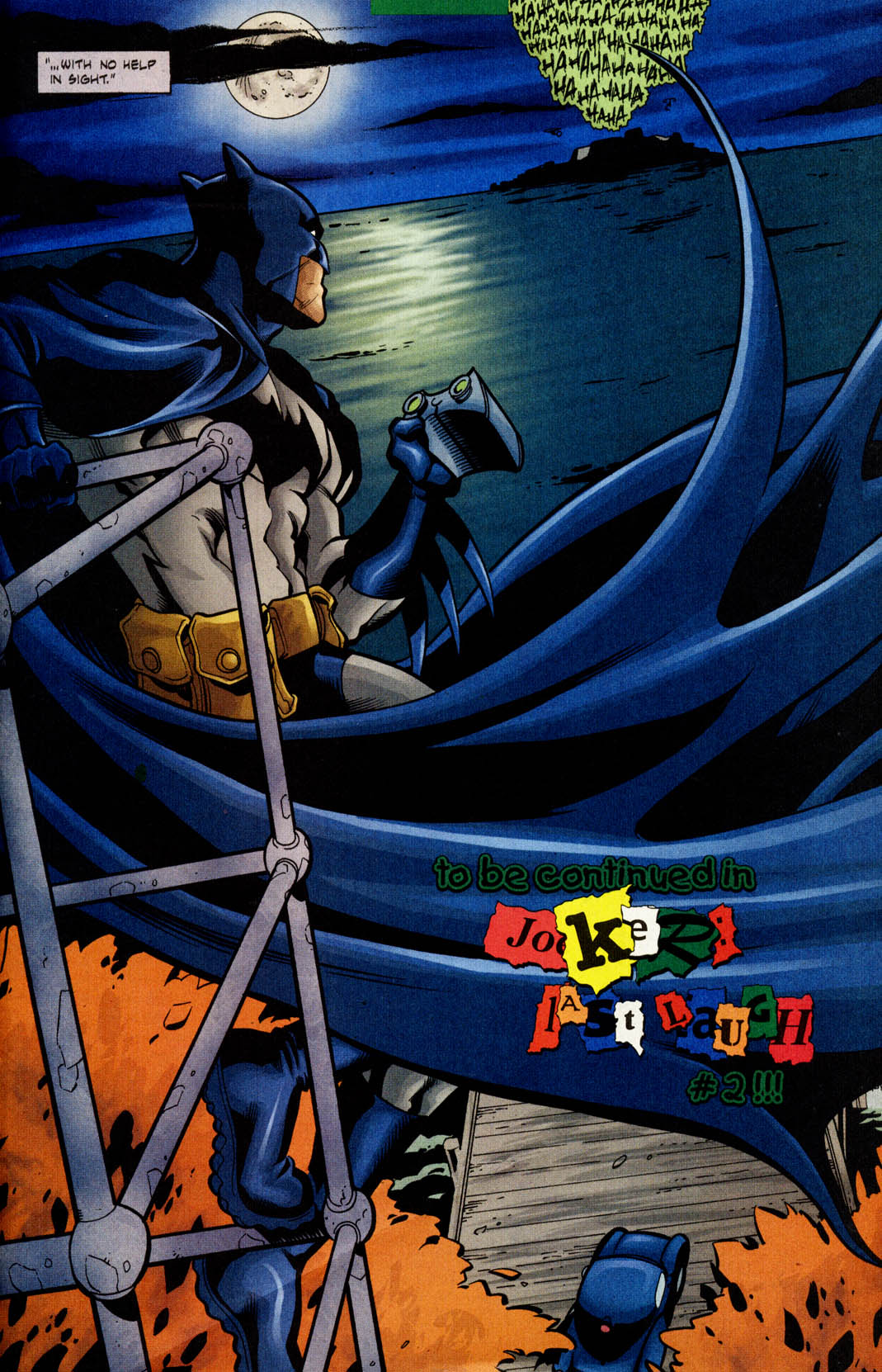 Tulajdonképpen Chuck Dixonék ügyesen megoldották a feladatot. Joker kitörési akciója elég ügyesen elvitte a füzet nagy részét úgy, hogy közben gyakorlatilag állt a cselekmény. Volt egy kis komolykodás Barbara és Nightwing részéről. Ez a Shilo-Dina szál viszont tökéletesen felesleges, és meglehetősen érdektelen is. Gyanítom ez utóbbit jegyzi Scott Beatty. Kimondottan idegesítő volt, hogy a füzet lényegét, a Joker-gázos témát cseppet sem magyarázták túl (hogy finom legyek). Egy csomó időbe telt mire nagyjából leesett, hogy miért is jokerizálódtak az ideggáztól a szupergonoszok (és még most se vagyok teljesen biztos benne).
Pete Woods rajzaira ugyanaz áll, mint a múltkor.
Update: The English version of this post is here.