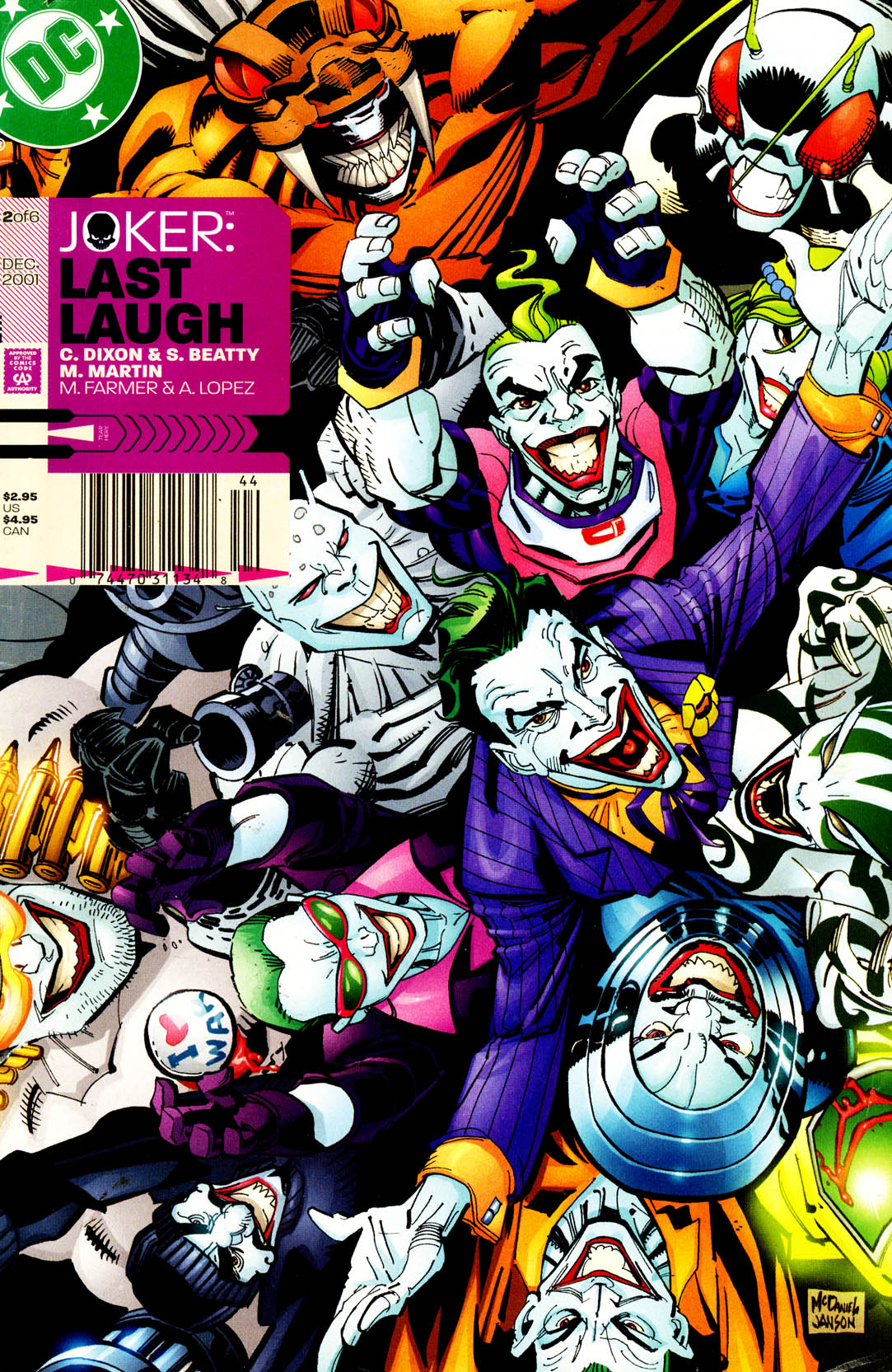 Visszatérünk a fő sztorihoz. Ott hagytuk abba, hogy a börtönlázadás sikeres volt, de kitörni még nem tudtak a SLABból, viszont az összes szupergonosz Jokerizálódott. Fekete Kanári már behatolt a SLABba, Kék Bogár kintről fedezi, és Batman is megjelent a helyszínen. Oracle és Nightwing csak nemrég értesült a fejleményekről. Dina és Shilo pedig megpróbál kijutni a SLABból.

Nightwing egyből útnak indul a SLAB felé, közben Oracle a monitorszobában visszanézi az eseményeket, és tájékoztatja a fejleményekről, vagyis hogy Kanári nagy gondban van. Shiloék pedig a tenger alatti alagúton át próbálnak kijutni. Közben belefutnak a tengeri részleg emberevőibe, Orcába és Királycápába. (Sliget is most látjuk kiszabadulni.)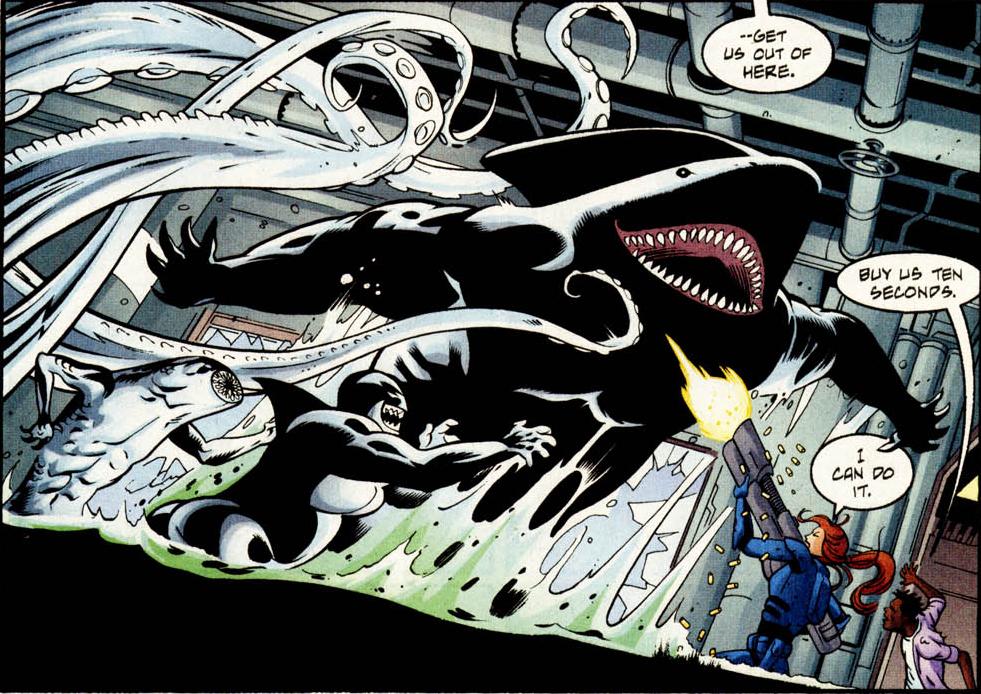 Jokerék ezalatt valamire nagyon készülnek Black Masszel. Nightwing viszont már bejutott, és egyszer csak szembetalálja magát a rommá vert Igazság Liga tagjaival.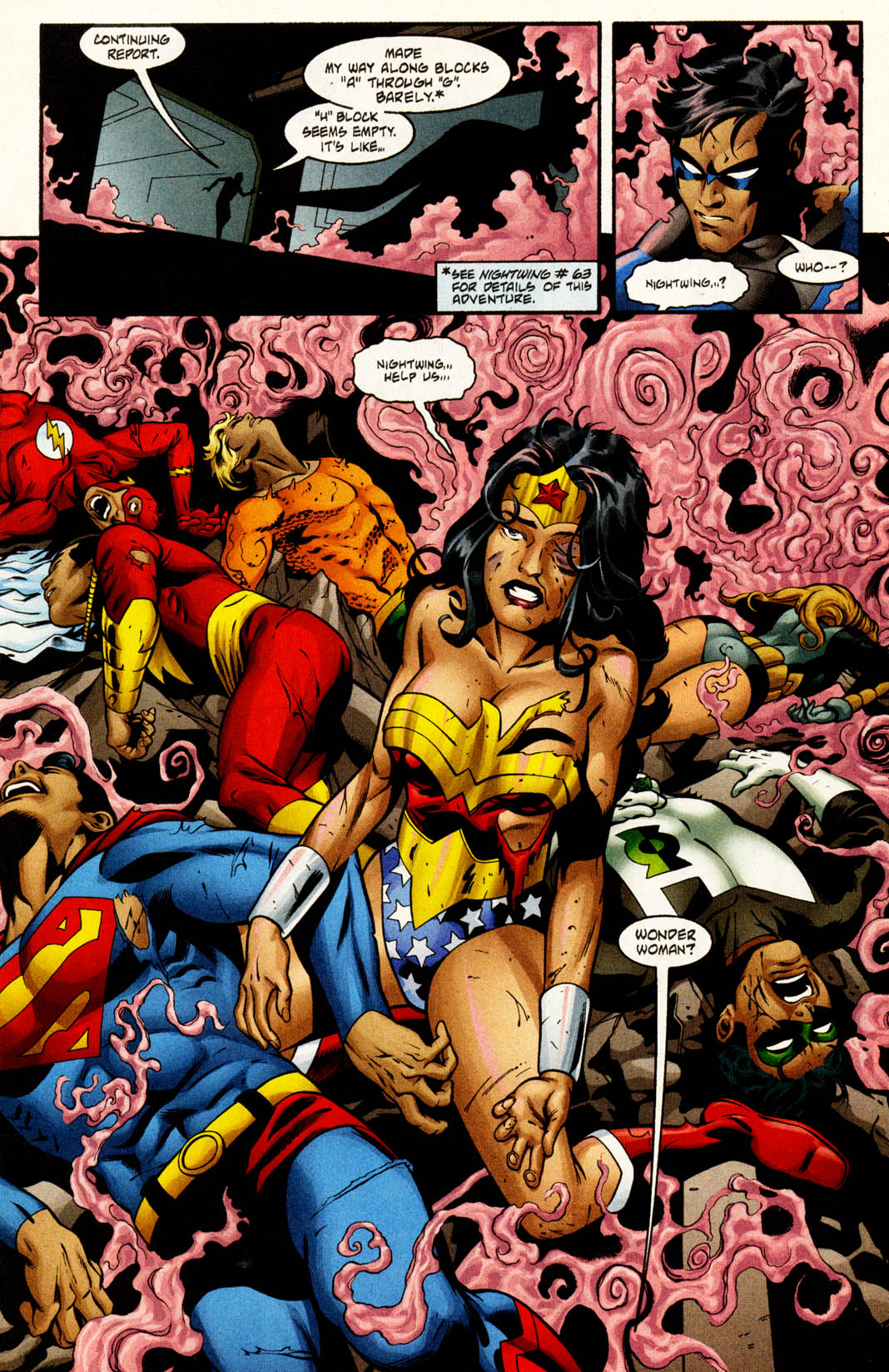 A haldokló Csodanő a fülébe hörgi, hogy mindenki meghalt, és nem más intézte el őket, mint Bat-Mite (a Batman család legirritálóbb tagja).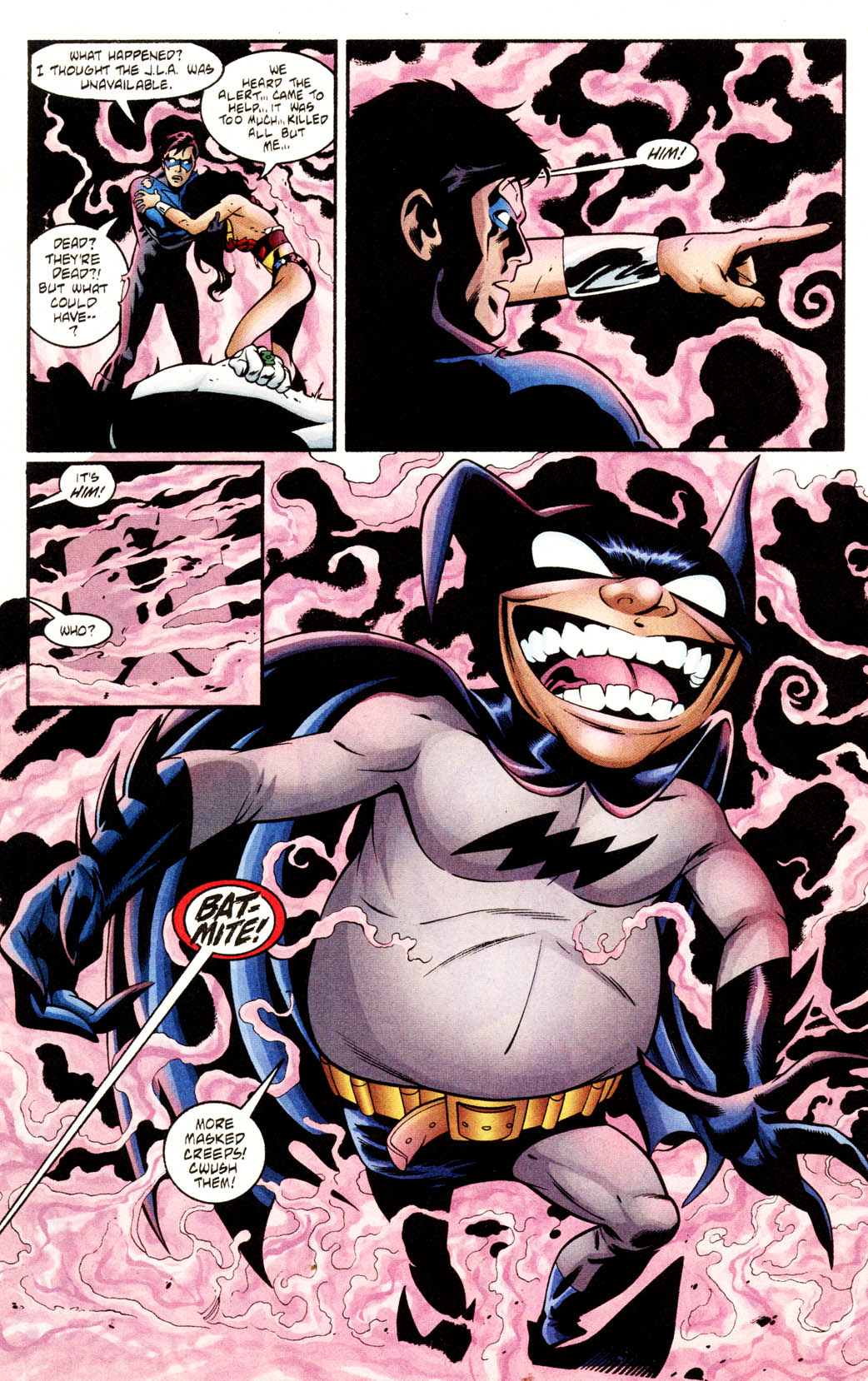 Nightwingnek viszont gyanús lesz néhány dolog: elsősorban maga Bat-Mite, aztán Aquaman régi kosztümje, meg hogy a Zöld Lámpás a másik kezén hordja a gyűrűt. A Csodanő mindezen észrevételekre egy heves csókkal reagál, ekkor viszont megjelenik Batman és leüti. Kiderül, hogy nem is a Csodanő, hanem Lady Spellbinder (persze jokerizálódva, nyilván ezért jött elő az idióta Bat-Mite-tal is), és az csak a képzelet szüleménye volt. Kivéve Fekete Kanárit, akit tényleg jól helybenhagytak, de mielőtt elájulni annyit még el tud rebegni, hogy Joker valami szörnyűségre készül. Batman vállára kapja Spellbindert, Nightwing pedig Kanárit, és sipirc kifelé.
Jokerék ezalatt Warp segítségével megnyitnak egy (dimenziókapu szerű?) átjárót. Az egész nincs túlragozva, csak pár kockát szánnak rá, egy robbanás, és belépnek valami sárgás izébe (plazma? felhő?).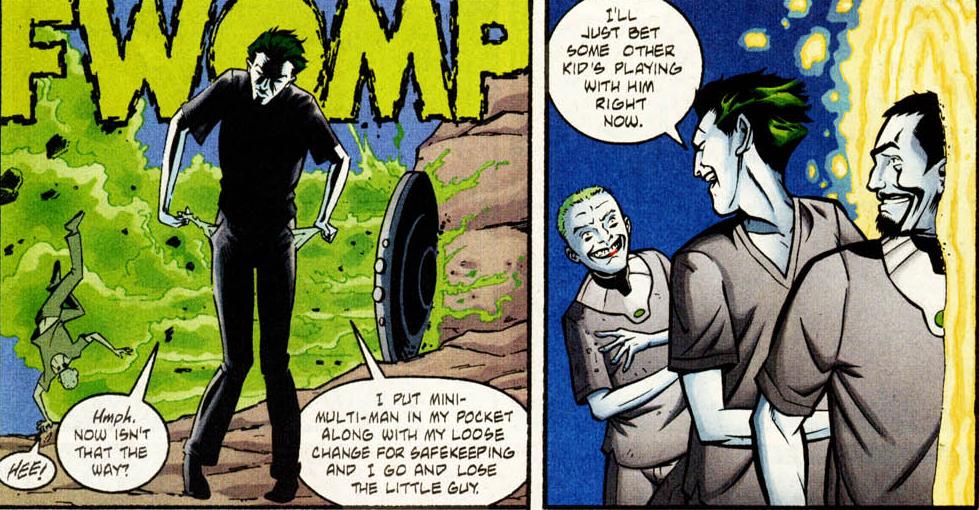 Eljön Black Mass ideje is (egyébként Joker ittfelejtette szegény mini Multi Mant, aki még a múltkor ment össze, és most egy pókkal hadakozik). A vekker megszólal, ő összecsapja a tenyerét, és különleges képességének köszönhetően (ami számomra még most sem elég világos), az egész SLAB összezuhan egy fekete lyukba, vagy valami ilyesmi.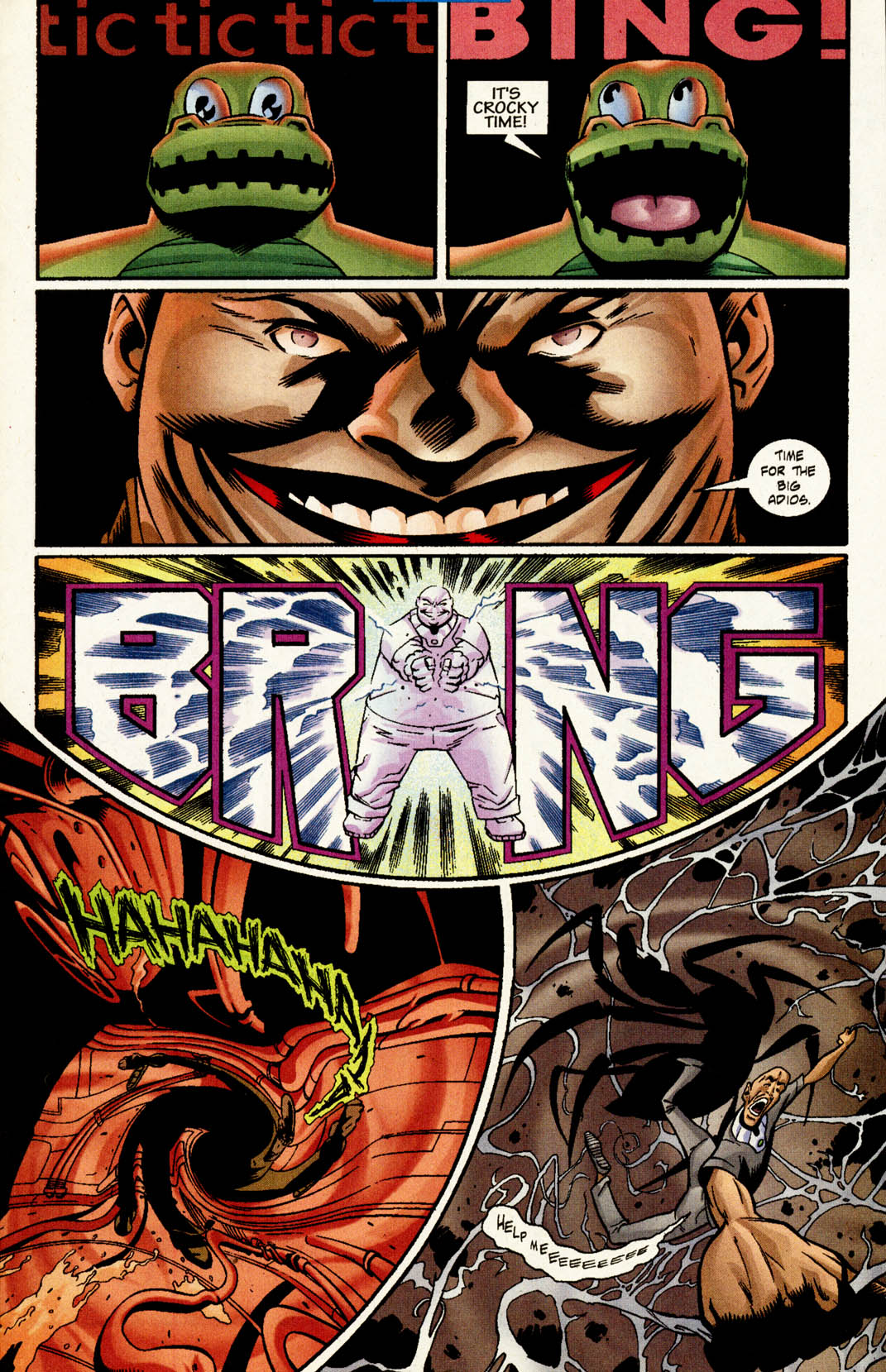 Batmanék még időben kiérnek, és a Kék Bogár járgányán sikerül elmenekülniük, a magához tért Kanári közben tájékoztatja a többieket a részletekről, vagyis Joker agytumorjáról. Dina és Shilo viszont bennragadt SLABban.
Ja igen, Jokerék még a bizarr szörnyet, Chemót is felélesztették, de nem úgy fest mintha ennek bármi jelentősége is lenne a sztori szempontjából. Lehet csak ki kellett tölteni még valahogy két oldalt.

Chuck Dixon sztorija továbbra is meglehetősen bonyolult, ráadásul mindent megtesz, hogy a legfontosabb dolgokat minél jelentéktelenebbnek tüntesse fel, így kényszerítve állandó visszaolvasásra az embert, akár még füzetekkel későbbről is. Az például, hogy Jokerék még a Black Mass féle akció előtt elhagyták a SLAB-ot, nekem csak két számmal odébb esett le. Hát szóval ez nagyon nem szép tőle. Ennek köszönhetően meglehetősen zavaros az egész, viszont tényleg ötletesen alakulnak a dolgok. A Scott Beatty féle Shilo-Dina szál most eggyel kevésbé tűnt feleslegesnek mint múltkor. A rajzoló új, Marcos Martin, de nekem egyáltalán nem tűnt fel. Tisztára mint Pete Woods, talán csak egy picit szögletesebbek a figurái, és meglehetős vonzalmat érez a nagy fejek iránt.
Szolgálati közlemény: Az Igazság Liga tagokat nem tageltem, mert ők úgyis csak látomások voltak, és volt még néhány futottak még figura, Copperhead, Sonar, akiket szintén nem.
Update: The English version of this post is here.