Why isn't this man smiling?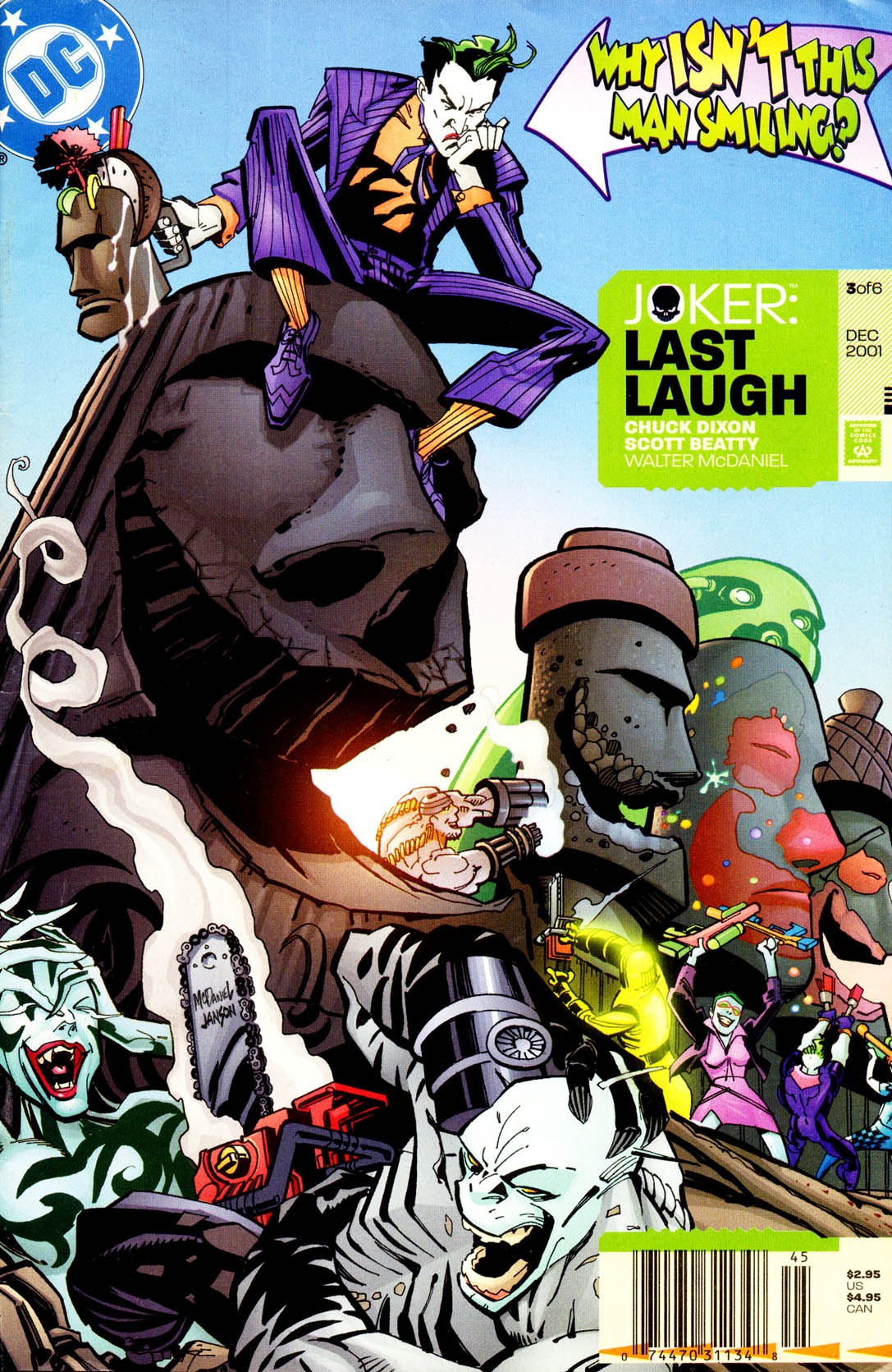 Tehát újból vissza a fősodorhoz.
Az Igazság Ligája (Superman, Flash, Gumiember, a Marsi Embervadász és a Zöld Lámpás) megérkezik holdi főhadiszállására, és azt látják, hogy Jokerarcot öltött a föld (hatásos, de semmiféle magyarázatot nem kapunk rá később sem).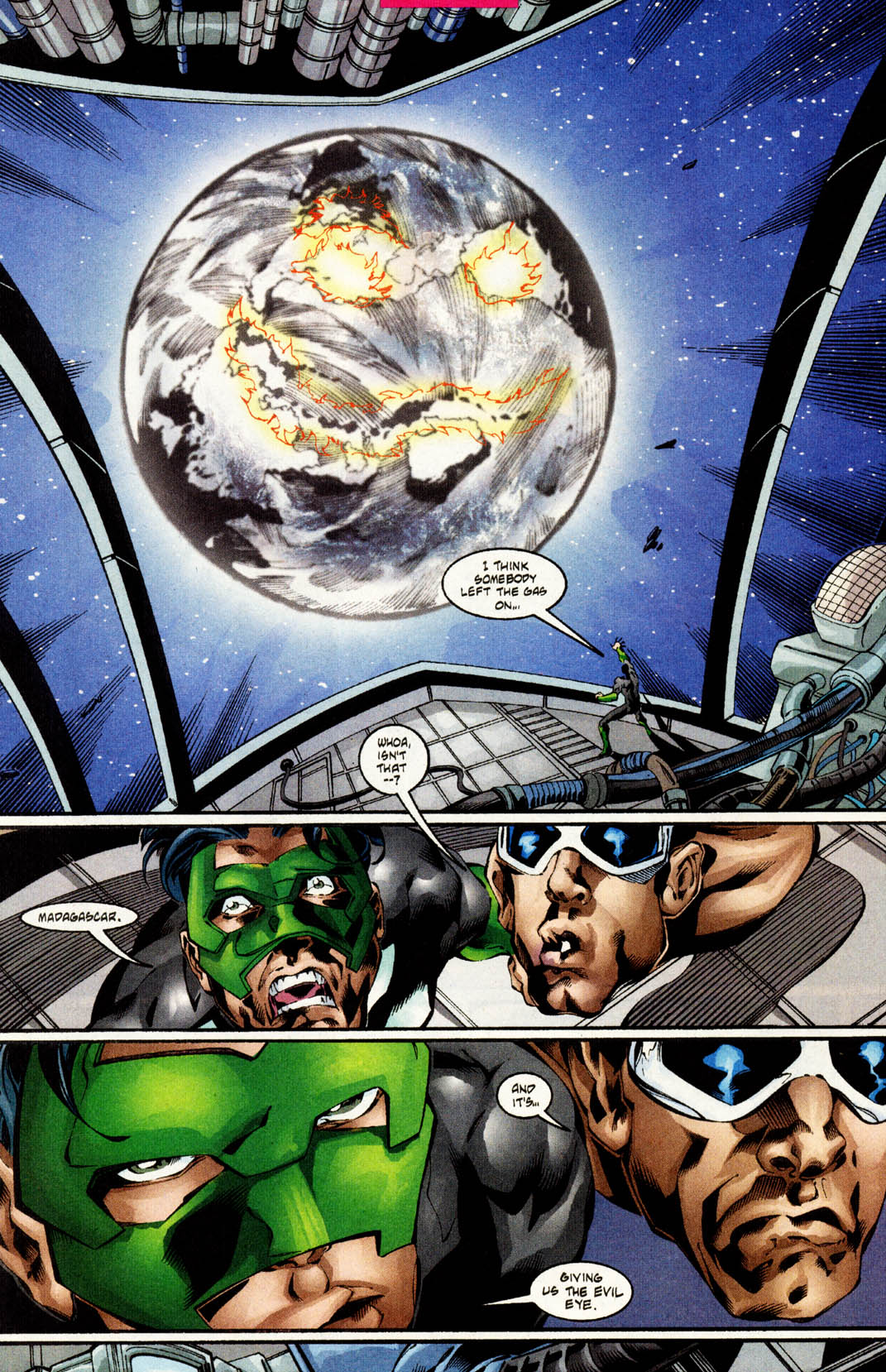 Gothamben Batman hiábavalóan keresi Jokert, mert ő társaival a Húsvét szigeteken van (ezt már a címlap is lelőtte).
A tudósok ezalatt jó pár oldalon keresztül elmagyarázzák Lex luthor elnöknek, hogy hogyan Jokerizálódtak a gonosztevők. Ennyi hosszas, és szükségtelen felvezetés után aztán végre kiderül, hogy Joker örököst szeretne nemzeni. E célból elküldi néhány kérőjét Harley Quinnhez, akik nem fogadnak el nemet válaszul. Harley kénytelen Orákulumhoz fordulni segítségért. Barbara a pillanatnyilag rendelkezésére álló Batgirlt (Cassandra Cain) és Spoilert küldi felmentő seregnek. Harley ki van bukva, hogy csak táborozó kislányok jöttek a megmentésére, és valóban, hamar lerendezik őket.


A feszültség elhúzására most megszakítjuk adásunkat, és kapcsoljuk Lex Luthor elnököt, aki bejelenti a háborút Jokerék ellen. Az adást Joker is nézi, aki ezen kissé berág, eddig ugyanis valami szövetségfélében voltak Luthorral.
Közben befutott Nightwing is, de nem Spoilerékhez, ahová kellett volna, hanem Barbarához. Na, mégy egy oldalt aggódhatunk a lányokért, de most aztán tényleg érkezik a lovasság Powergirl személyében.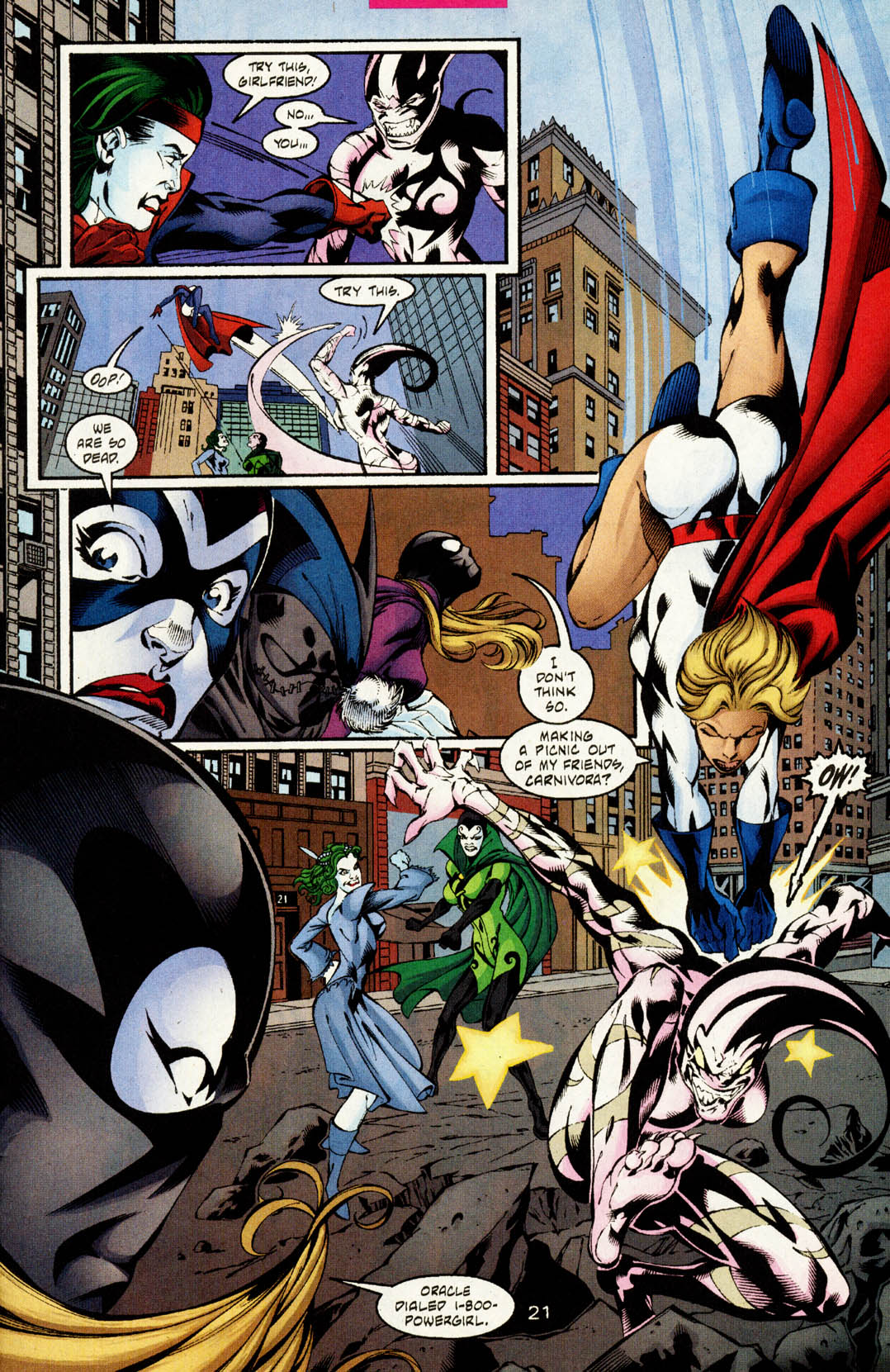 Harley tehát megmenekült a lánykérőktől, de persze fogoly, és segíthet a katonaságnak a Joker-ellenszérum előállításában. Oracle közben veszekszik egy sort Nightwinggel, hogy Éjszárny mit játssza itt a védelmezőt, meg hogy  miért nem ölhetik meg Jokert. Az egésznek egy sírós egymásra borulás lesz a vége.
Lezárásként még láthatjuk, hogy Joker tök ki van bukva azon, hogy nem vérvörös az ég, pedig az minden krízis elengedhetetlen kísérője.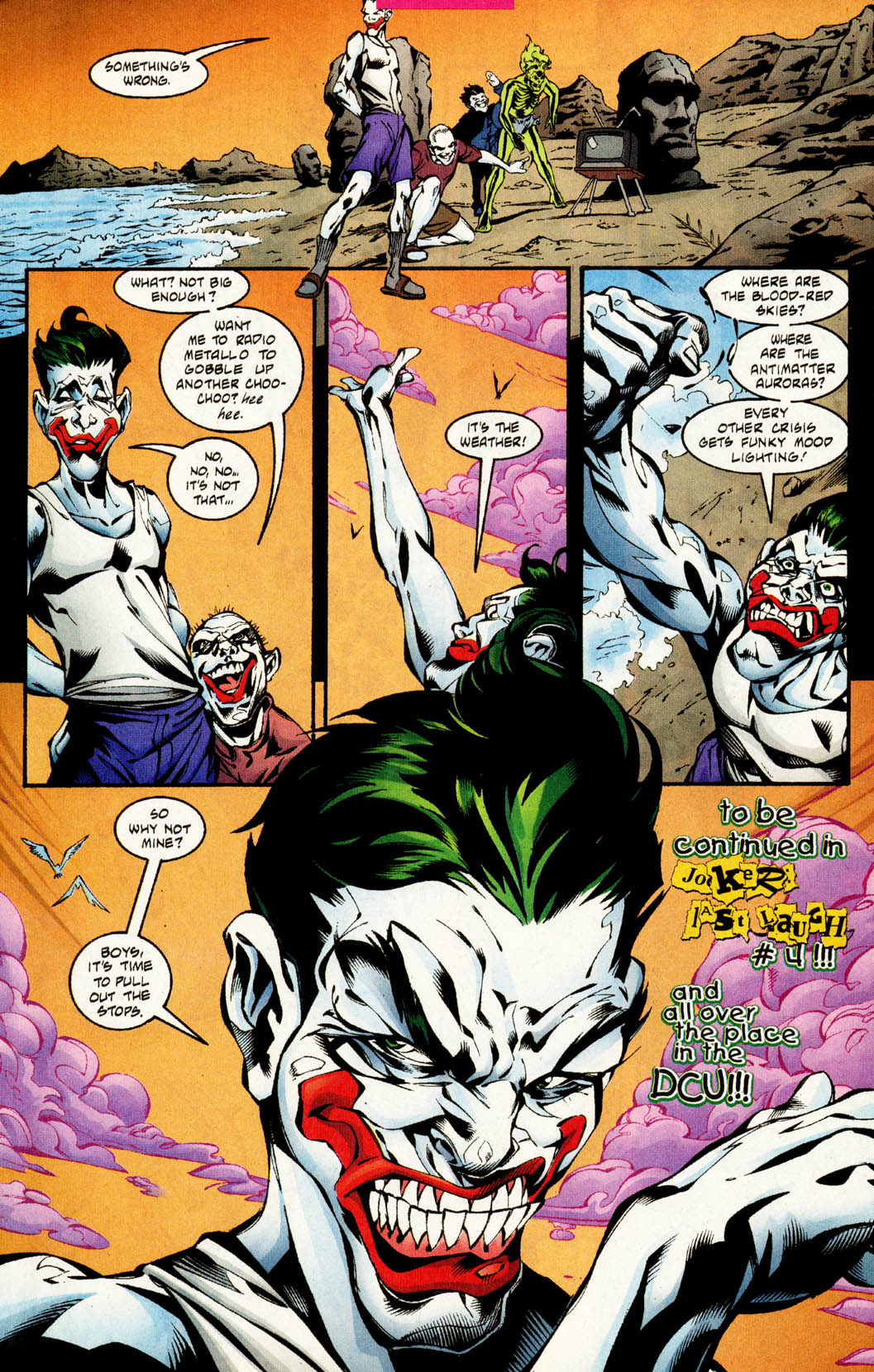 Hát a sztori mostanra kezd leülni, így Chuck Dixon és Scott Beatty nem igazán tudja mivel kitölteni a 30 oldalt. Ráadásul most a Shilo-Dina szál is szünetelt (nem mintha olyan sokat tett volna hozzá), így az se viszi a lapokat. A Harley féle leánykérés viszont nagyon jó, egyértelműen az egész sorozat eddigi (és félek, későbbi) legjobbja, a lányok csak úgy öntik magukból a poénokat, kár hogy csak a füzet harmadára volt elég. A rajzoló Walter McDaniel nagyon jó, neki is a Harley mentés akciójelenetei fekszenek a legjobban, ráadásul a szöveges poénokhoz képi humort is tud párosítani. Amivel nem vagyok teljesen kibékülve, azok a hatalmas fogak, és az arcárnyékolási technikája.
Egy csomó Jokerizálódott szupergonosz is feltűnik, akiket megpróbálok felsorolni és betagelni (nem mindet sikerült).
Joker kérői: Floronic Man, Carnivora, Killer Frost,  Dervish, Phobia, A világot pusztító jokerizálódott szupergonoszok közt feltűnik New Wave. A Húsvét szigeteken bohóckodik Solomon Grundy, Effigy és Rancor. Emellett még Robinnak is van egy képkockája.
Update: The English version of this post is here.