Wonder Women.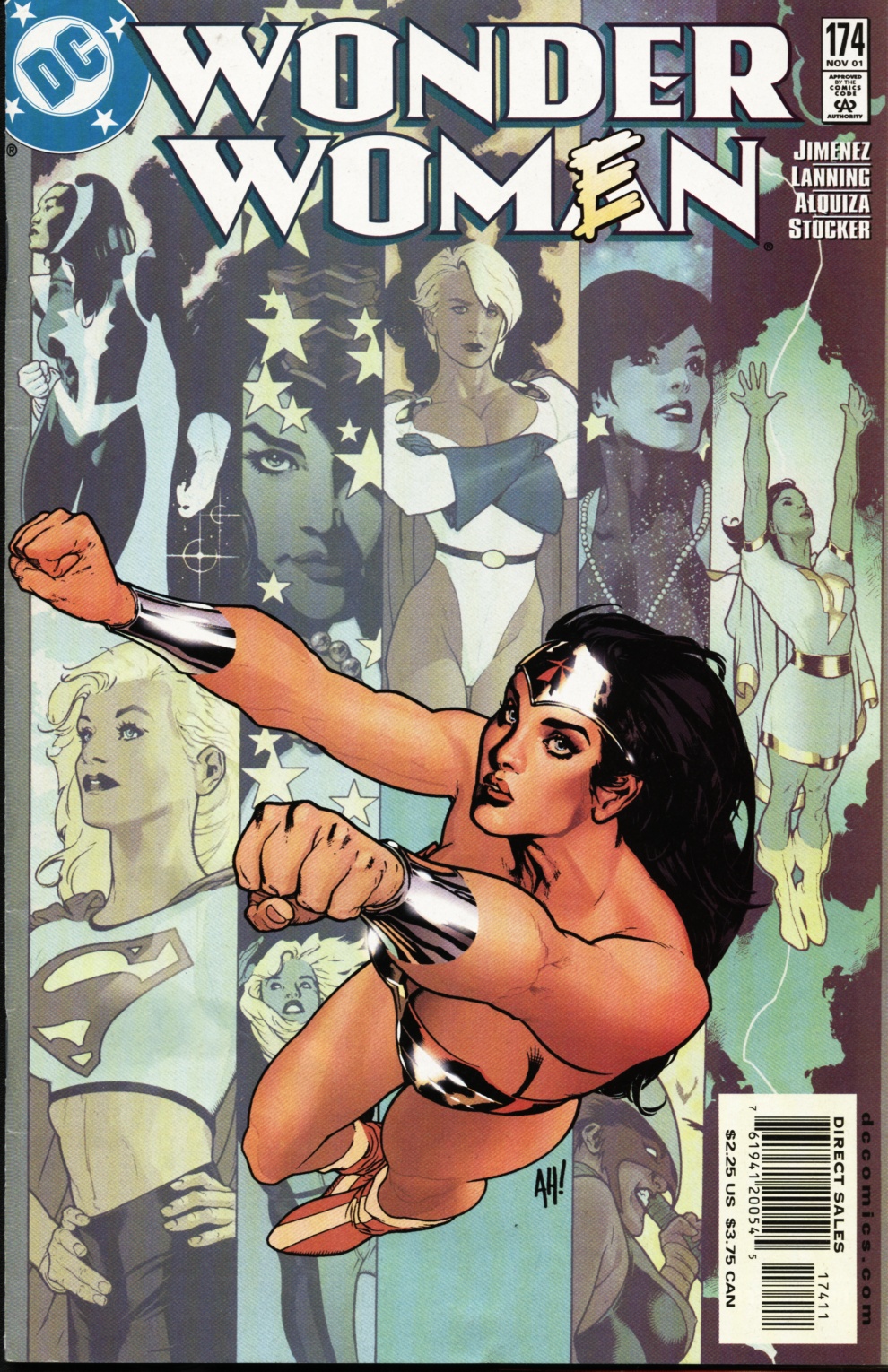 New York próbál magához térni a háború utáni pusztításból (még mindig az Our words at war storyline-ról van szó), de az emberek és idegenek közti összetűzéseket nehéz megfékezni. Ezzel próbálkozik Zöld Lámpás, Jade és Csillagtűz, amikor hirtelen... a Zöld Lámpás elkezd átalakulni szarvassá. Az egész Lady Spellbinder műve, de úgy fest ez most nem csak hallucináció, hanem nagyon is valóság, ráadásul az Ezüst Hattyú segítségével egy egész Manhattenre kiterjedő varázs-erőteret (vagy mit) hoz létre.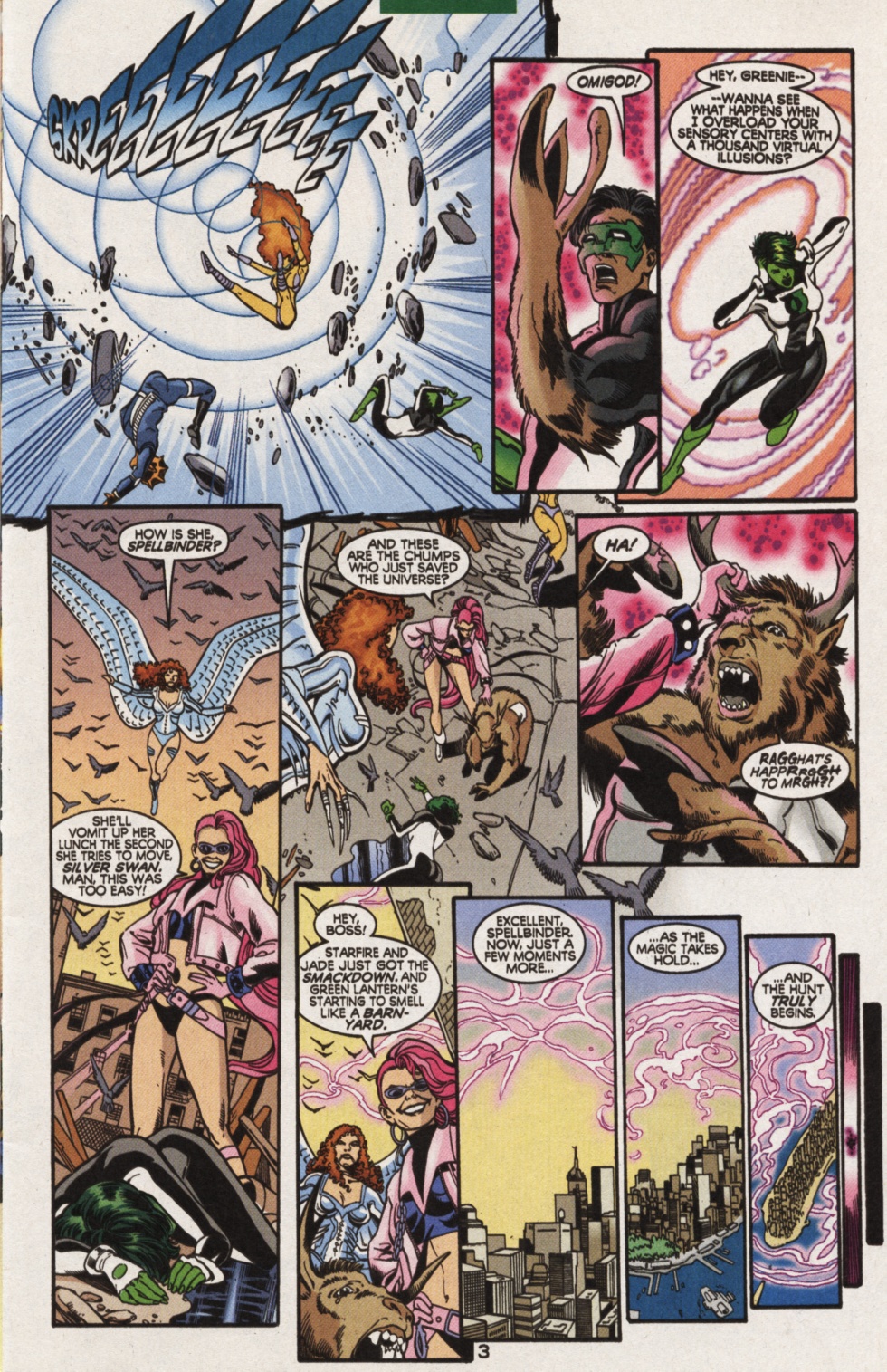 A háború nem csak New Yorkot, hanem az amazonok földjét, Themyscirát is megviselte. Csodanő Artemis szobra előtt véget érhetetlen szájmenéssel könyörög bocsánatért, hogy a háborúban hitük erejét Darkseidnek ajánlották fel. Mivel nem kap választ, szónoklata egyre ingerültebb lesz, míg végül...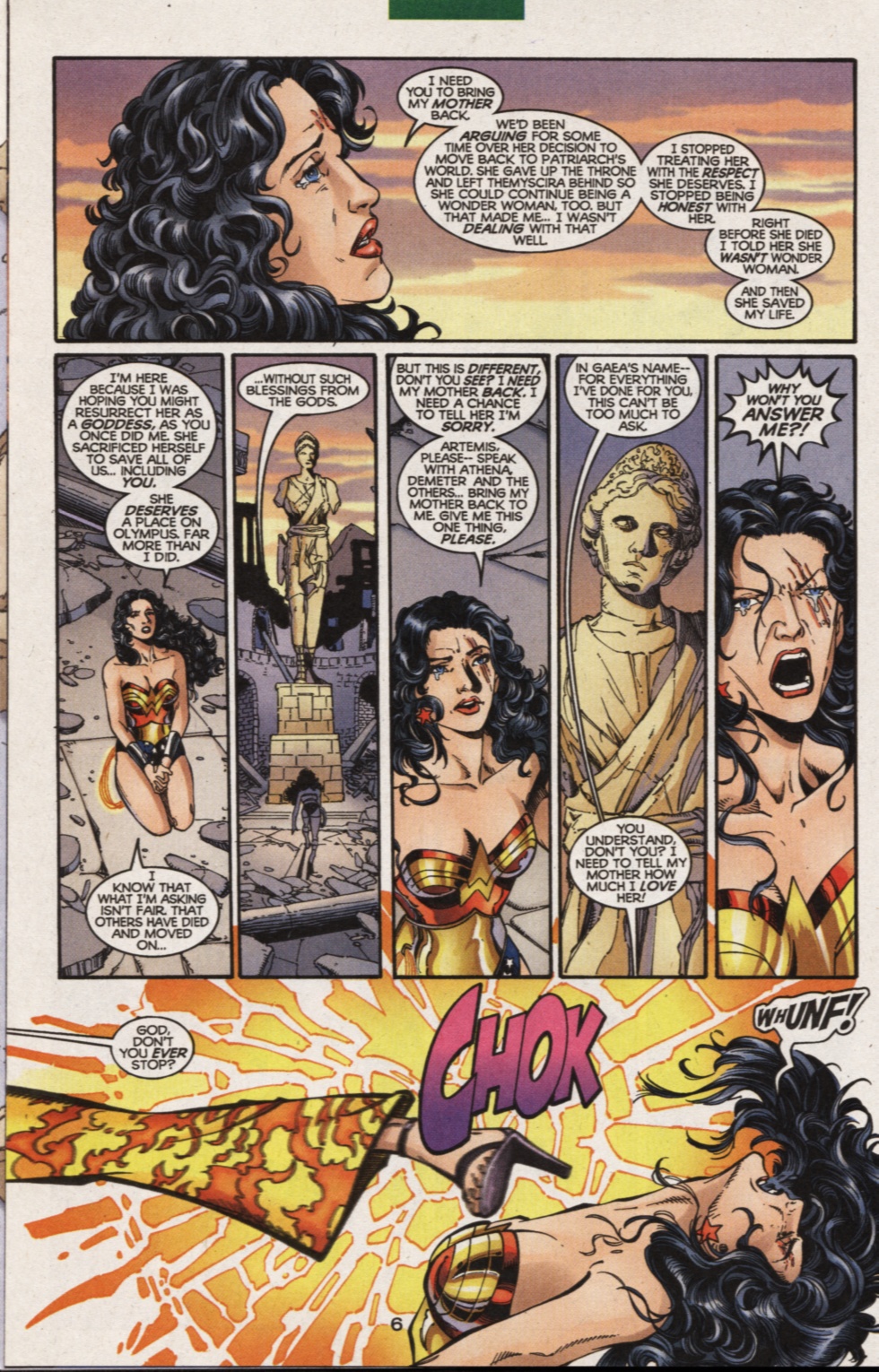 ősellensége, Circe egy jól irányzott pofánrugással el nem apasztja a szófolyamot. Csodanő varázslasszójával megpróbálja gyorsan elintézni. De ó jaj, Circe ellen nincs hatása. Circe azért jött, hogy New Yorkba hívja Csodanőt, ahol meglepetést tartogat neki. Csodanő Donna Troyjal, az egykori Wonder Girllel útnak is vág. Circe közben a Nagy Almába gyűjti a hímnemű szuperhősöket, akik Spellbinder erőterének köszönhetően elvesztik szuperképességeiket és állattá alakulnak. Supermant maga Circe lánya, Lyta csalja csapdába.
De nem csak a szuperhősök jutnak erre a sorsa, Lex Luthor elnök például saját hálójába foglyul esett pók lett, elnöki különgépét pedig Circe használja főhadiszállásnak (szeretője, Cheetah is vele tart). Ugyanakkor a női szupergonoszokat is maga köré gyűjti, hogy segítsenek leszámolna a védtelen szuperhősökkel.
Csodanő és Donna a Liberty Islanden érnek partot, hamarosan csatlakozik hozzájuk Wonder Girl és két Young Justice-os társa, Secret és Empress. Oracle diszpécserkedésével megérkezik a többi szuperhősnő is. Csodanő gyorsan kiosztja a feladatokat: Zatanna segítségével immunissá válnak Spellbinder átka ellen, a hadtesteket pedig Doctor Light (nem a múltkor felbukkant férfi, hanem a női verzió), Powergirl, Donna Troy, Fekete Kanári és Wondergirl vezetik. Megérkezik Batgirl is, de ő valamiért szégyell a többiekhez csatlakozni, ezért Oracle Kanárira bízza, hogy segítsen neki az árnyékban maradni. Ekkor az Ezüst Hattyú sikolyával felvezetve elnöki különgépén megérkezik Circe is az elfogott Supermannel.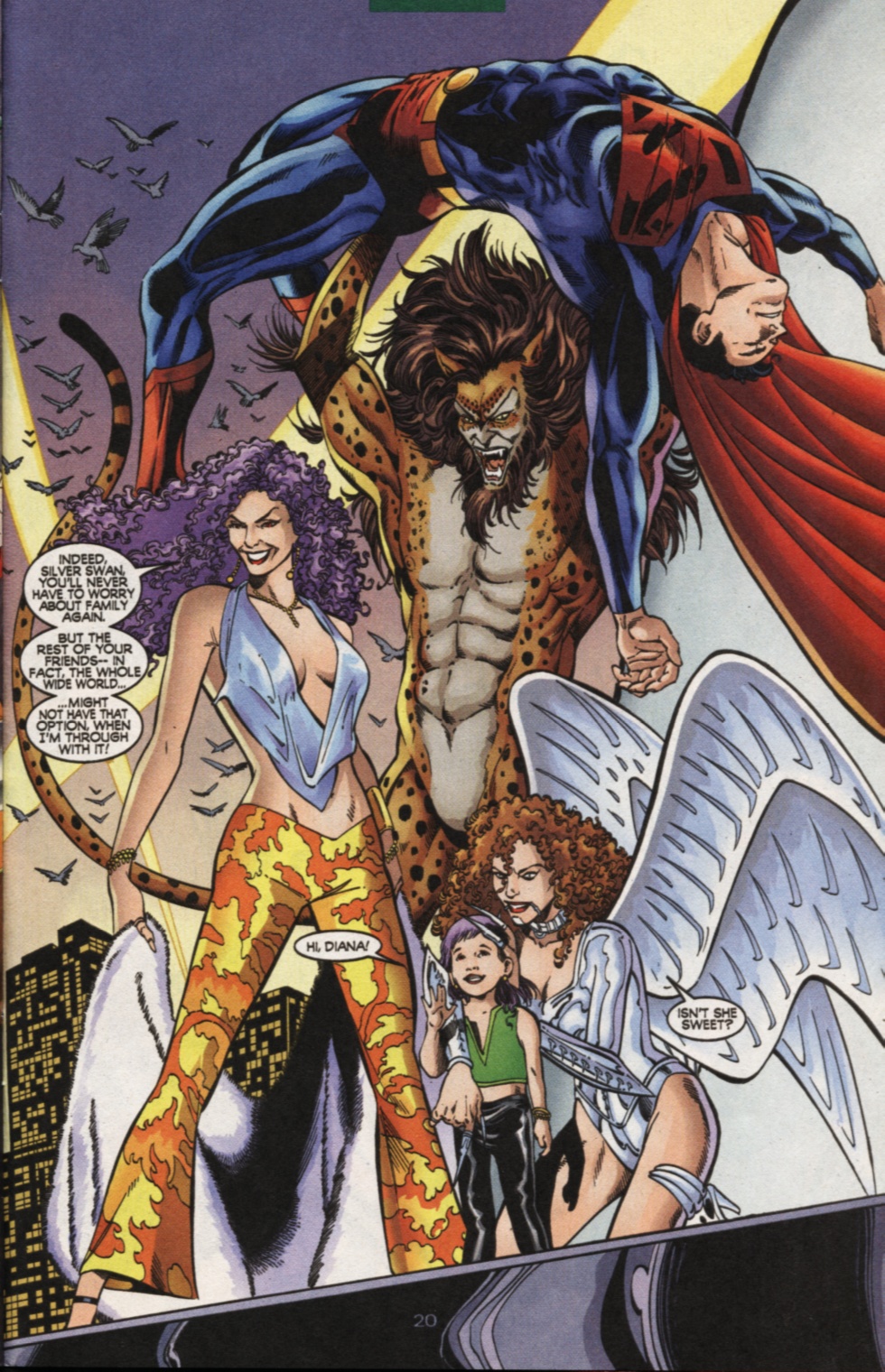 És megkezdődik az összecsapás...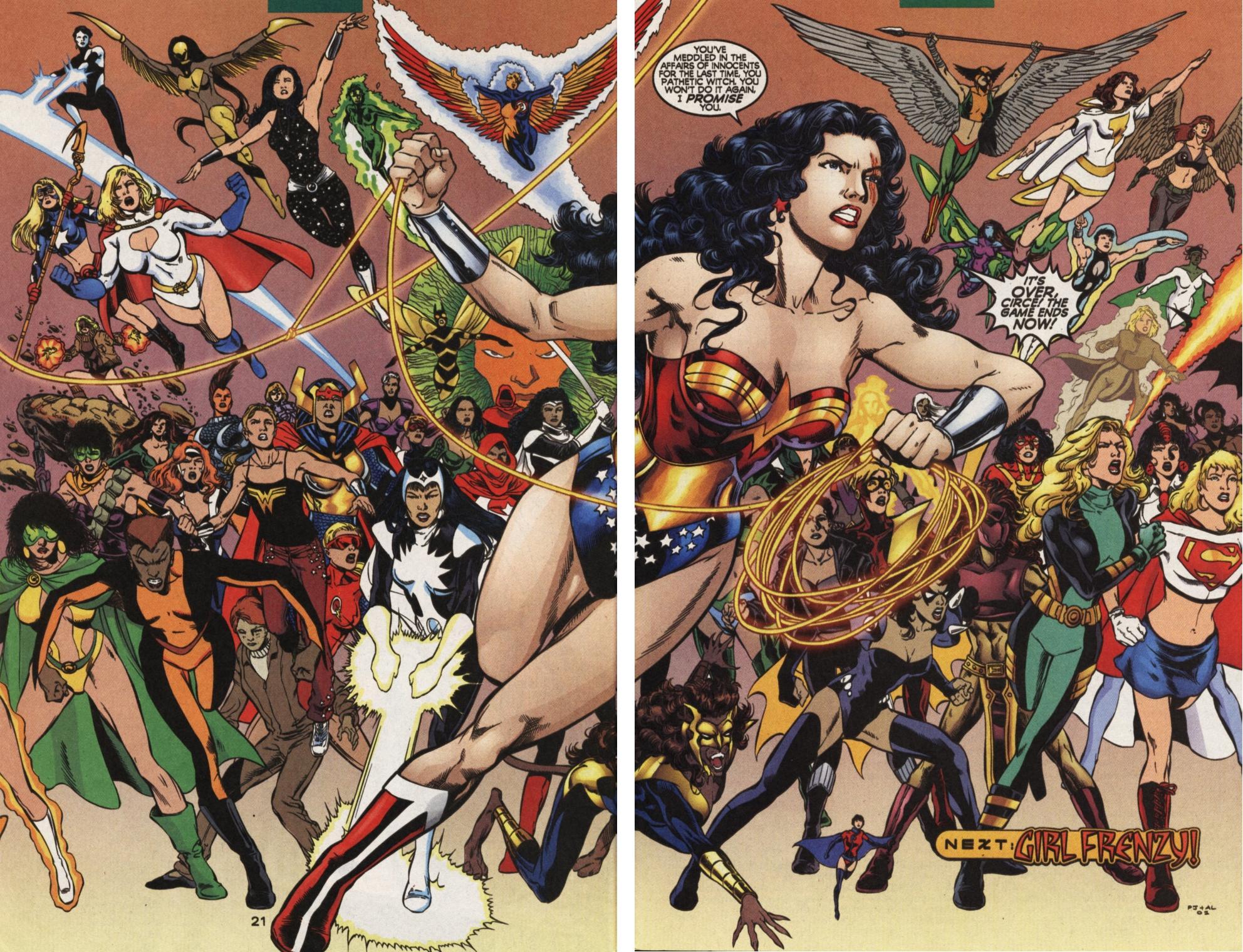 A sztori és rajz értékelése majd a következő számnál.
Viszont a teljesség igénye nélkül nézzük a futottak még kategóriát, akik közül néhányat be is tagelek: Batman (ő kígyóvá válik), Robin, Atom Smasher, Icicle (bár ő szupergonosz, mégis állattá változik), Doctor Poison, New Wave, Moonbow, Killer Frost, Big Barda, Stargirl, Supergirl (érdekes, hogy ő nem lett hadtest parancsnok), Bumblebee (az igazi, nem a Kék Bogár chates nickneve), Hawkgirl, Martian Manhunter, Mary Marvel, Monster Girl, Vixen, Flamebird, Onyx, 4-D, Chrysalis, Sylph, Mustang Sally (ő csak ennek a két képregénynek a két képkockáján szerepel), Gorgeous Gilly, Owl-Woman, Jesse Quick, Maya, Betty Clawman, Firehawk.
Ez a füzet nem, csak a következő hivatalos Joker: Last Laugh Tie in, így nem is tagaltem oda, mivel így is kihasználtam a 40-es határt.
Update: The English version of this post is here.