The witch is back.
Megkezdődik tehát az óriási, szuperhősnők a női szupergonoszok ellen összecsapás, képkockánként három új szereplős sebességgel. Ez már annyira durva, hogy az alkotók kénytelenek névjegyezni a résztvevőket.


(és ilyen oldalból van egy jó tucatnyi)
Circe az Air Force One-nal a Time Square-en parkolt, Oracle így ideirányítja Csodanőt. A gépen Lex Luthoron kívül ott van még fogva Gumiember (jól csomóra kötve), a Marsi Embervadász, Beast Boy (Gézengúz) gorillaként és Joker pánként. Az érkező Csodanőt az Ezüst Hattyú fogadja sikolyával, majd jöhet a főfogás, a szörnnyé változtatott Superman.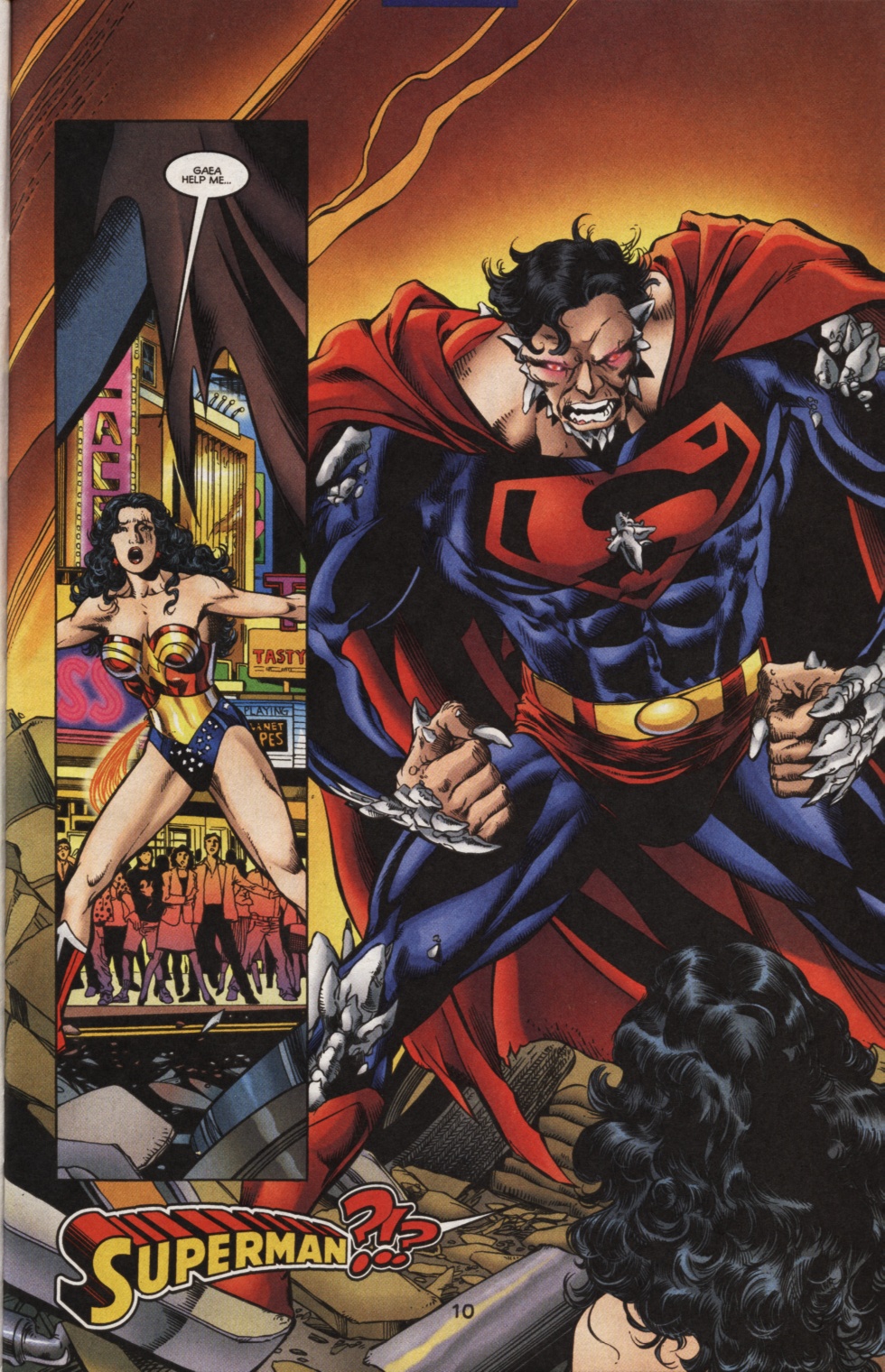 Megkezdődik az egész füzeten végigívelő nagy bunyó. Közben Csodanő végig próbál átalakult JLA társa lelkére beszélni, természetesen hiába. Ráadásul az Ezüst Hattyú galambjai segítségével a csodalasszóját is elveszi tőle. Azonban Circe és szeretője, Cheetah túl belefeledkezve nézi a látványt, így Circe lányát, Lytát a pókhálóban vergődő, félig pók Lex Luthor elnök magához csalja.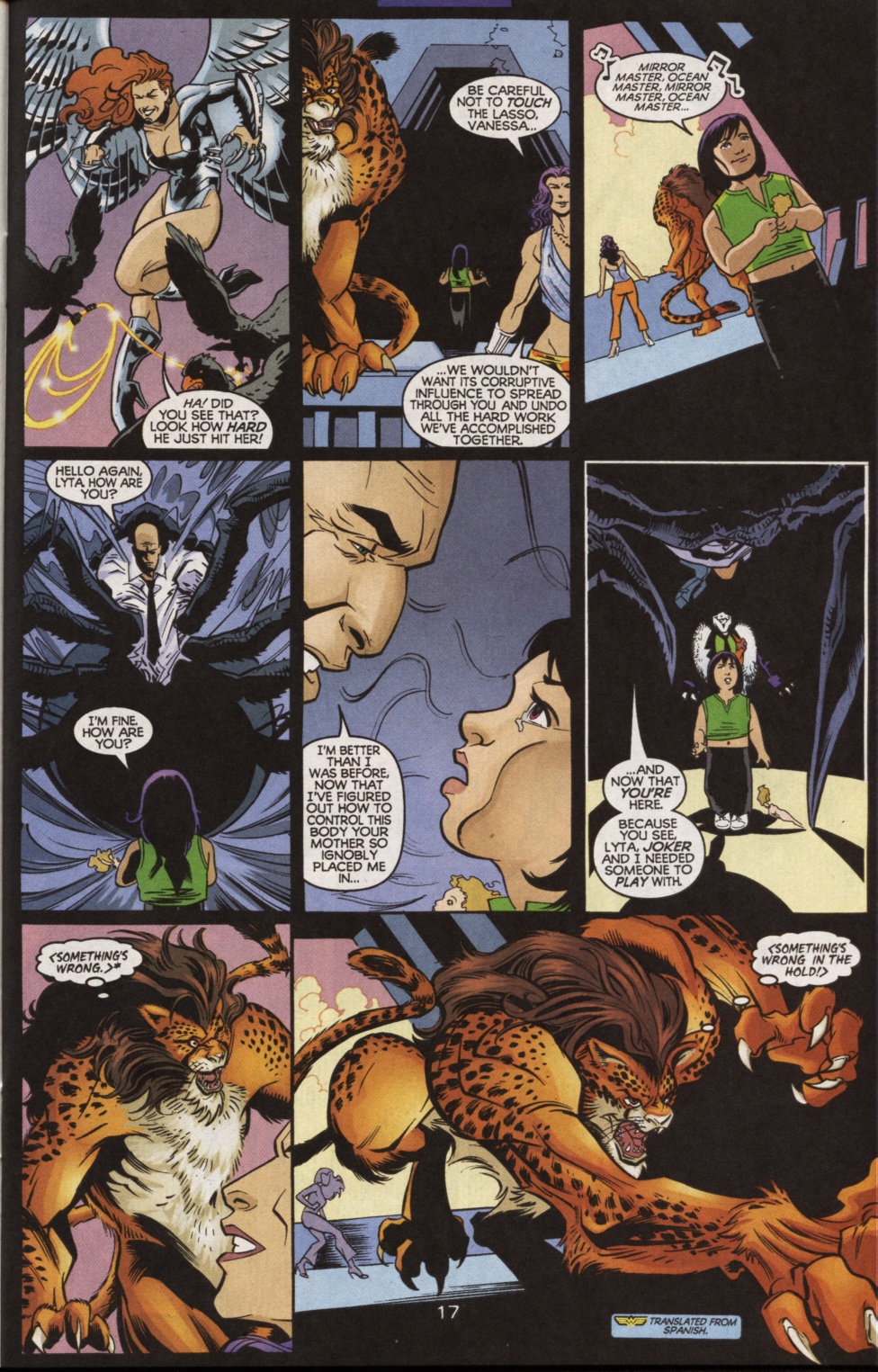 A Gepárdember veszi észre először a bajt, odarohan, de már későn, és Lex Luthor hálójába gabalyodik. Megjelenik Luthor szövetségese, Joker is (itt még nem tudják, hogy közbe már szakítottak, sőt háborúban is állnak), aki jokerizálja Circét.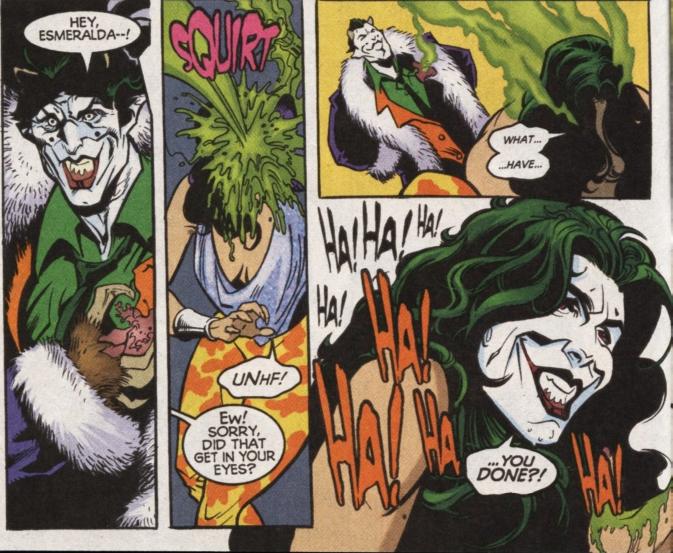 Joker át is veszi az irányítást a gépen, illetve átvenné, hogyha kecskepatáival tudná irányítani a gépet. Cheetah gyorsan kiszabadul és Circe is visszaváltozik, de ekkora már Luthor is kigabalyodott pókhálójából, csáprágói között Lytával, túszáért cserébe emberi testét és repülőgépét követeli vissza. Joker közben sikeresen felszáll a géppel, de az irányítás még nem igazán megy. A zavart kihasználva Csodanő visszaszerzi Ezüst Hattyú galambjaitól a lasszóját, amivel meg tudja kötözni a szörnnyé változott Supermant, és most már nyugodtan beszélhet a lelkére.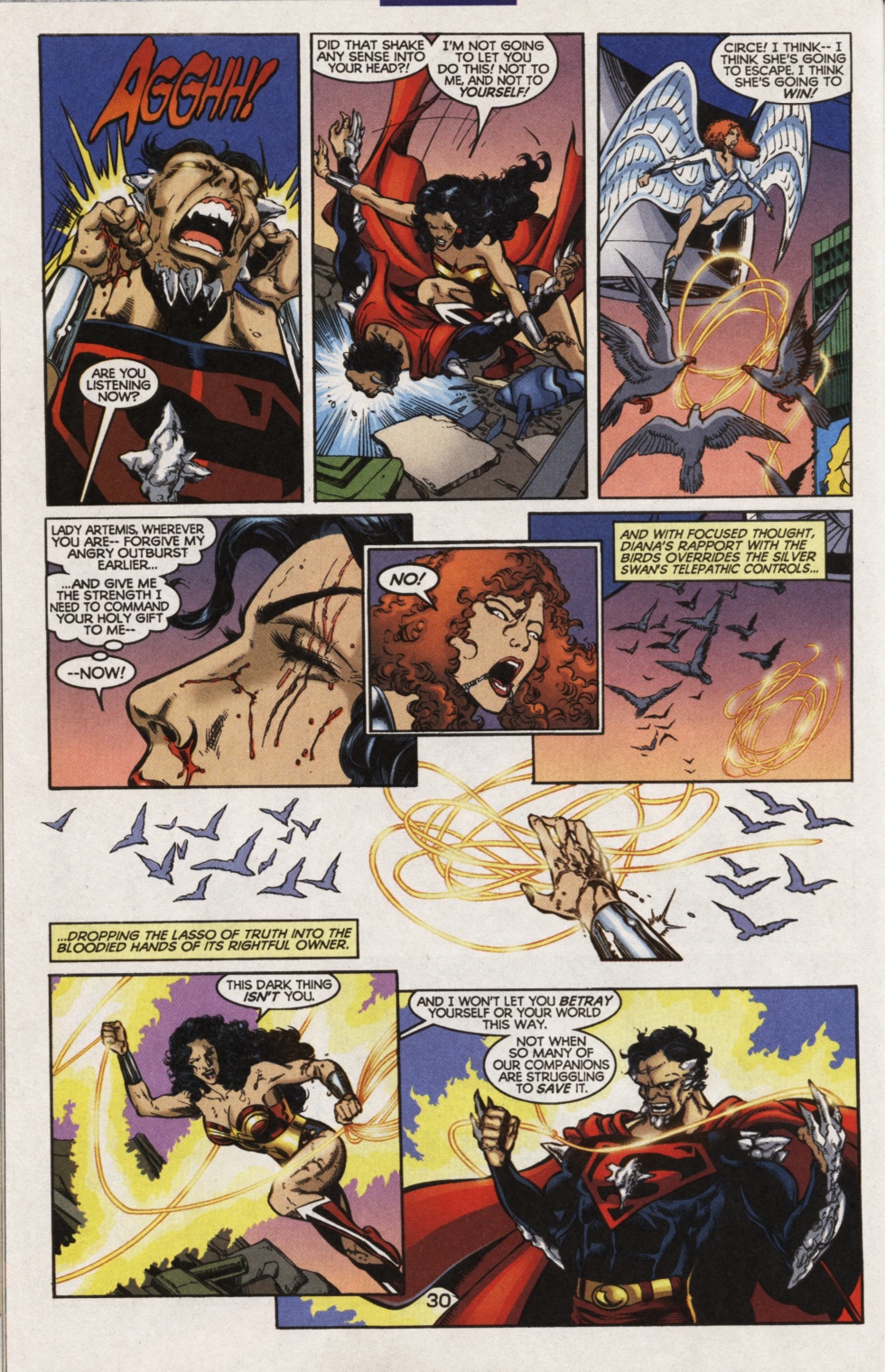 Ami végül hat, és Superman visszalakul Supermanné. Irány tehát az Air Force One. Egy jól irányzott ütéssel szétveri az oltárt, ami fenntartotta a varázs-erőteret. Gumiember, Gézengúz és a Marsi Embervadász egyből szabad, Luthor és emberei is visszaalakulnak. Cheetaht Gypsy intézi el (ő az előző jelenetben hatolt be a gépbe), Lytát Gumimber veszi gondjaiba. Joker elmenekül a pilótafülkéből, a gép így zuhanni kezd, Csodanőnek kell megtartania, és a tenger fölé vinnie, ahol már landolhat. Teljes Happy End, Csodanő és Superman végre kisírhatják magukat.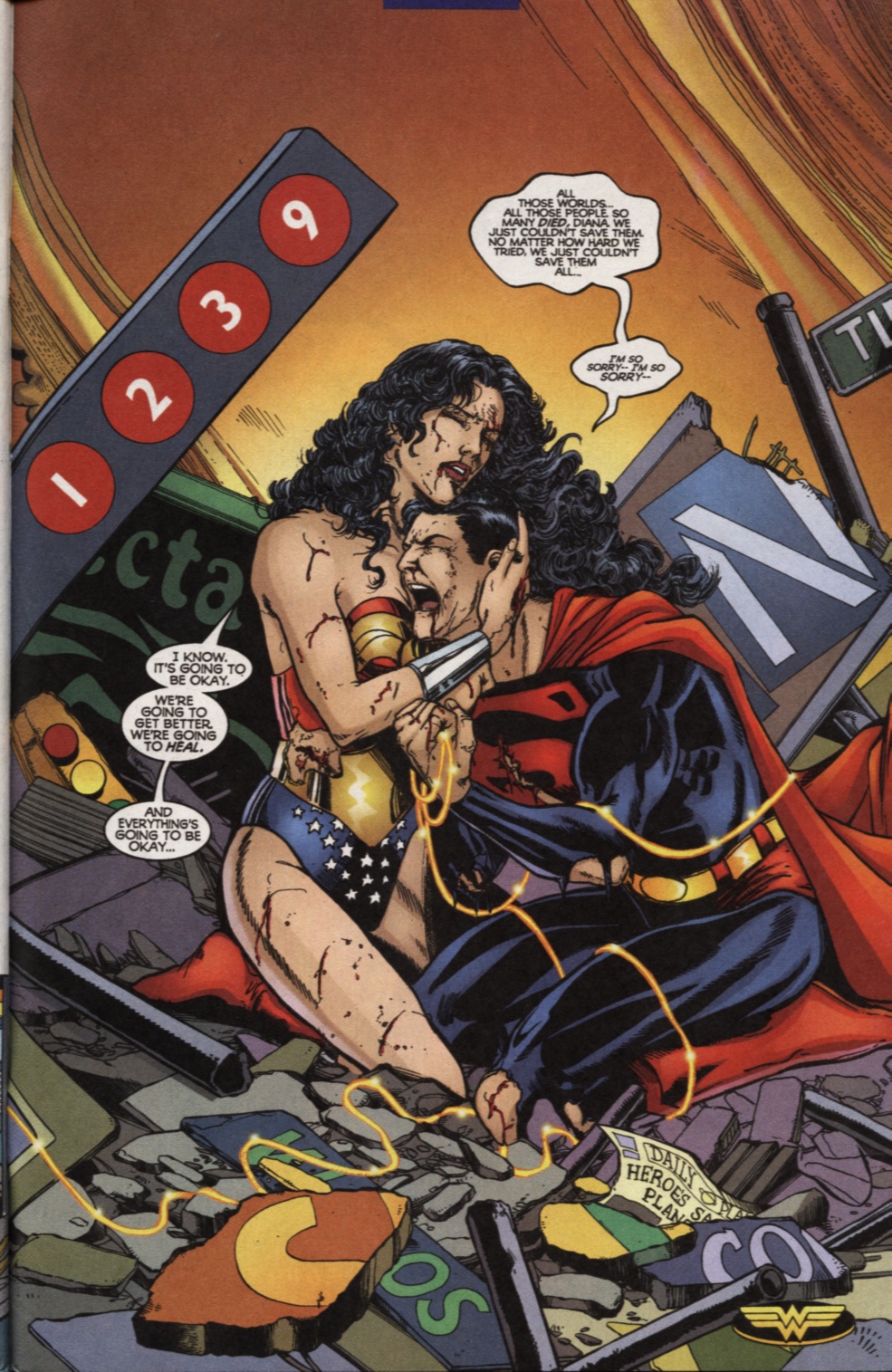 Hát Phil Jimenez sztorija nem semmi, szemmel láthatólag eltökélt szándéka volt, hogy felsorakoztatja az összes szuperhősnőt és női szupergonoszt. A történet magja egyébként kimondottan jó, és jól is lett megírva (elsősorban az Air Force One-on illetve a Circe és Csodanő között történtekre gondolok). Fordulatos és kellően izgalmas, különösebb mélységek nélkül. Superman szörnnyé változtatása is jó volt, de a fél füzetet végigívelő verekedés már inkább fárasztó. Az állattá változó szuperhősök meg a rájuk vadászó női szupergonoszok ötlete már inkább nevetséges, mint elképesztően gonosz, a szuperhősnő cunami meg még inkább az. A rajzoló is maga Jimenez volt, bár a második (dupla) füzetbe Brandon Badeaux is besegített. Szakmai tudása gyakorlatilag tökéletes, elképesztően profi, pár vonallal is nagyszerűen megrajzolja az arcokat, leginkább Circe fekszik neki. Az egyetlen kifogásolni való, hogy a rengeteg szereplő miatt, nem mindegyiknek jutott idő kellően kidolgozott arckifejezést rajzolni, és a második füzetben  már a főbb szereplőknek sem mindig.
És most jöjjenek a futottak még szereplők (néhány be is tagelve):
Flash (Ő kentaurrá vált). A Rockefeller Centernél bunyózik Donna Troy, Terra, Argent, Scirocco, Bumblebee, Tao Jones, Penny Dreadful, Death-Doll, Rosie, Mirage, Demolitia, Trinity, Dervish, Jesse Quick, Omen, Touch'n'go, Grace, Rose Wilson (Deatstroke lánya, vagyis Ravager), Anima, A Lincoln Centernél Sickle, Pantha, Velvet Tiger, Vigilante, Breathtaker, Flamebird, Raven, Gemini, Gorgeous Gilly, Ms Mesmer. A Wall Streeten harcol Twister, 4-D, Strangle Hold, Mary Marvel, Huitzilopochtli, Chain Lightning, Halo, Katana, Shiv, Cheshire, Nightwing (ő valami hollóféle lett), Arsenal (ő teknős lett), A South Street Seaportnál Axis, Onyx, Hyena, Vixen, Inferno, Nightshade, Killer Frost. Booster Gold (ő félig disznóvá vált). A Grand Central pályaudvaron küzd Knockout, Big Barda, Owl-Woman, Cyber-Cat, Chrysalis (úgyfest, hogy meghalt), Tigress, Rusalka, Firebird, New Wave, Tsunami, Cascade, Tundra (ő úgyfest megfulladt), Doctor Light (még mindig a női verzió), Nox, Nightfall, Gloss, Maya, Vicki Grant, Betty Clawman. Az 5. Avenue-n verekszik Mongal, Powergirl, Harpi, Hawkgirl, Fire, Hazard, Jewelee, a Park Avenue-n White Rabbit, Supergirl, Lady Shiva, Lady Vic, Diamondette, Phantom Lady, Nemesis, Deathstroke (ő csak megjelenik), A Central Parkban Firehawk, Poison Ivy, Godiva II., Ten, Elemential Woman, Icemaiden, Stargirl, Hawkman (ők ketten felmentő seregként érkeznek, meg még ketten, akikről lövésem sincs, hogy kik). Greenwich Village-ben gyapálja egymást Empress, Monster Girl, Wonder Girl, Sylph, Mustang Sally, Giganta, Secret, Vicious, Pistolera, Superboy, Mister Terrific (ők ketten mint felszabadított szuperhősök jelennek meg). Csillagtűz, Rampage, Magpie, Magenta, Zatanna, Marvel Kapitány (ő is a megmentettek között), Sweet 16, Atom Smasher, Robin, Batman, Zöld Lámpás (ők négyen is megmentettek).
Update: The English version of this post is here.