Acid Reign!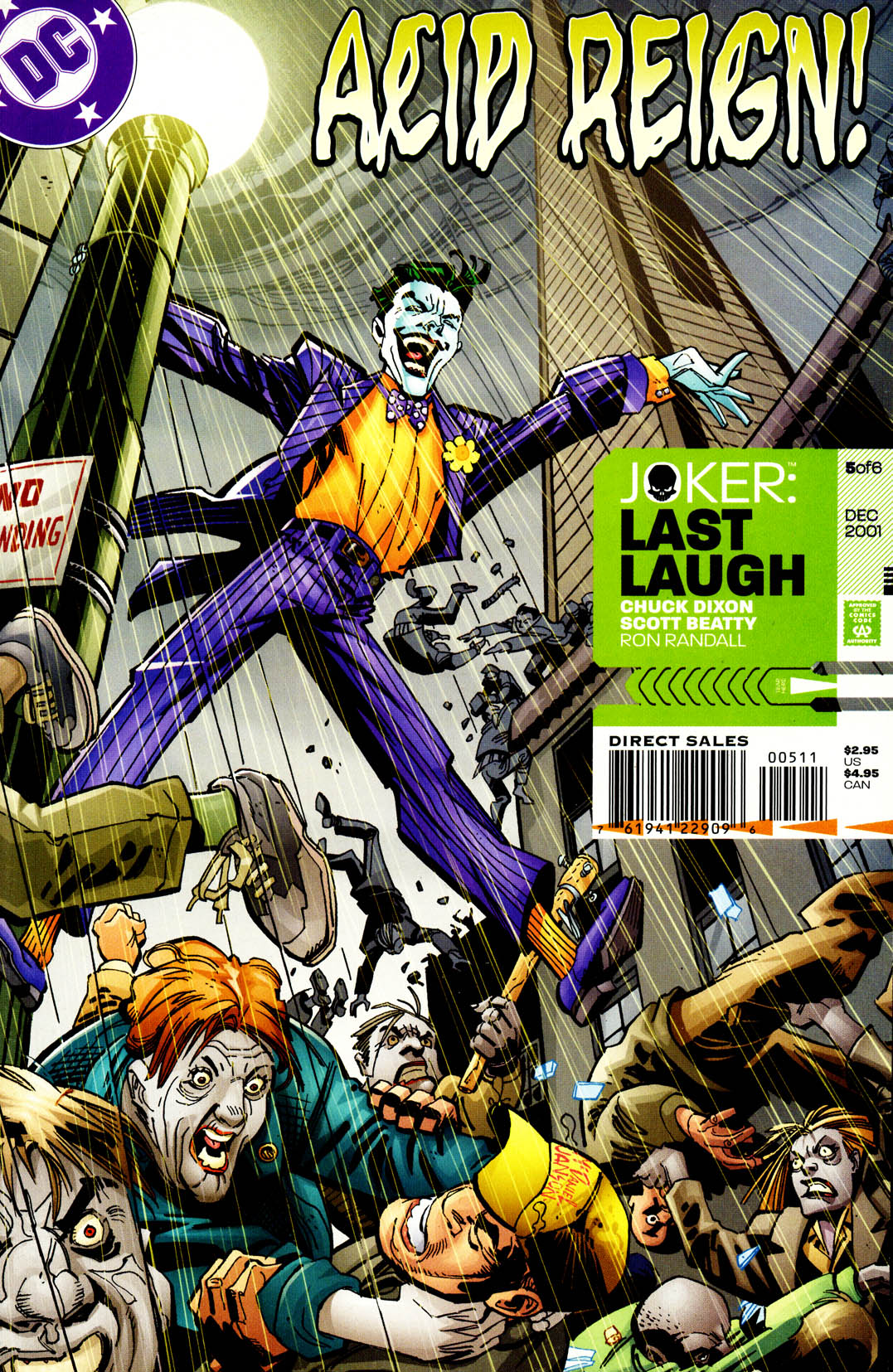 Harley Quinn miután előállította az antiszérumot, túszul ejti Man-Batet, és követeli, hogy vigyék Jokerhez (ez kissé zavaros, hisz éppen Joker lánykérése elől menekítették ide), de inkább lecsukják.
Oracle irányításával Huntress az Arkham Elmegyógyintézetbe készül behatolni. A bejáratnál a Hasbeszélő és bábja, Scarface várja, mindketten jokerizálódva.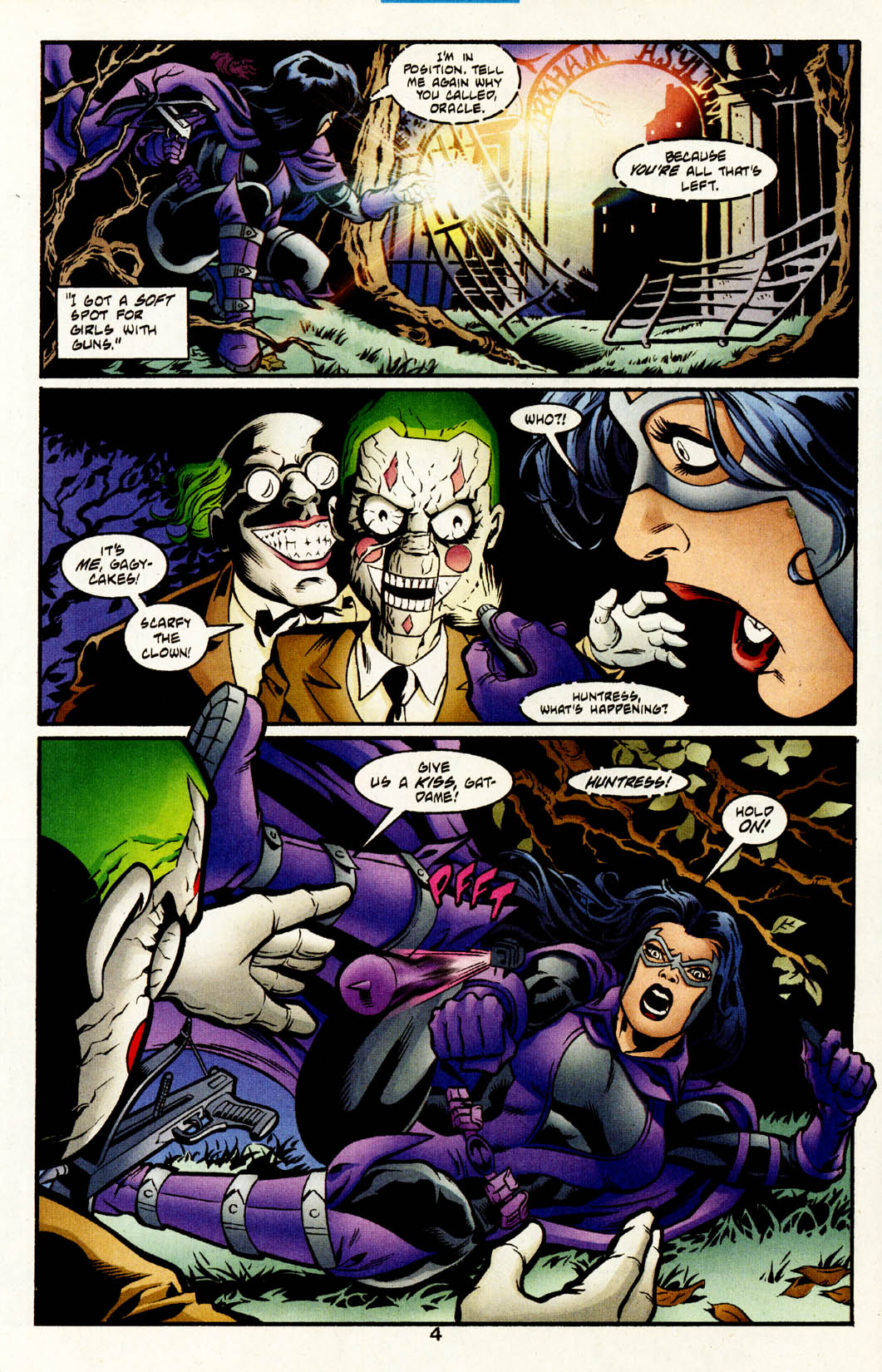 Huntress antiszérumos nyilaival ártalmatlanná teszi őket, majd folytatja a behatolást. Kiderül, hogy Robin megmentésére jött, akit foglyul ejtettek a jokerizálódott elmebetegek.
Shilo és Dina továbbra is a semmi közepén rekedt SLABból próbálnak kitörni Mr Mind segítségével, közben elintézik a rájuk támadó Királycápát.
Dinah megviszi a rossz hírt Barbarának, hogy Joker agytumora csak egy tréfa volt. Viszont felmerül a lehetőség, hogyha közlik a hírt Jokerrel, talán lecsillaszik, bár ezt maguk sem hiszik el.
A JLA képviseletében Batman, a Marsi Embervadász és Gumiember megérkeznek a Húsvét szigetekre, de már csak Joker tennivaló (to do) listáját találják ott, ami eredetileg testamentumnak indult. Mondjuk ez elég poénos.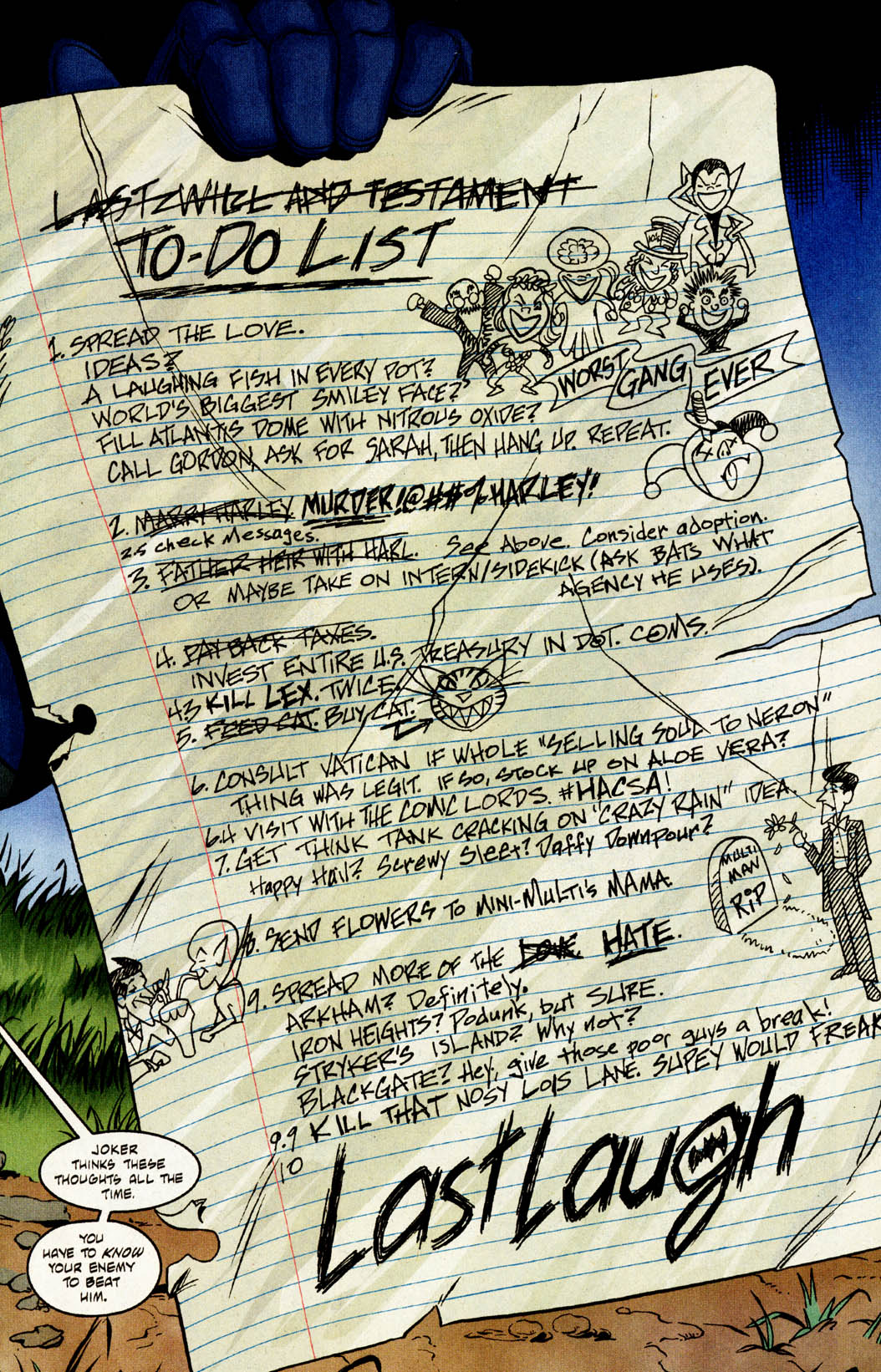 Gothamben Nightwing és Azrael tartja a frontot, amikor Warp megnyit mellettük egy dimenziókaput, és Mammothtal együtt áthúzzák rajta Nightwinget. Joker a mellére tűz egy üzenetet, hogy a Gotham Katedrálisban várja randira Batmant, és már küldik is vissza Azraelnek.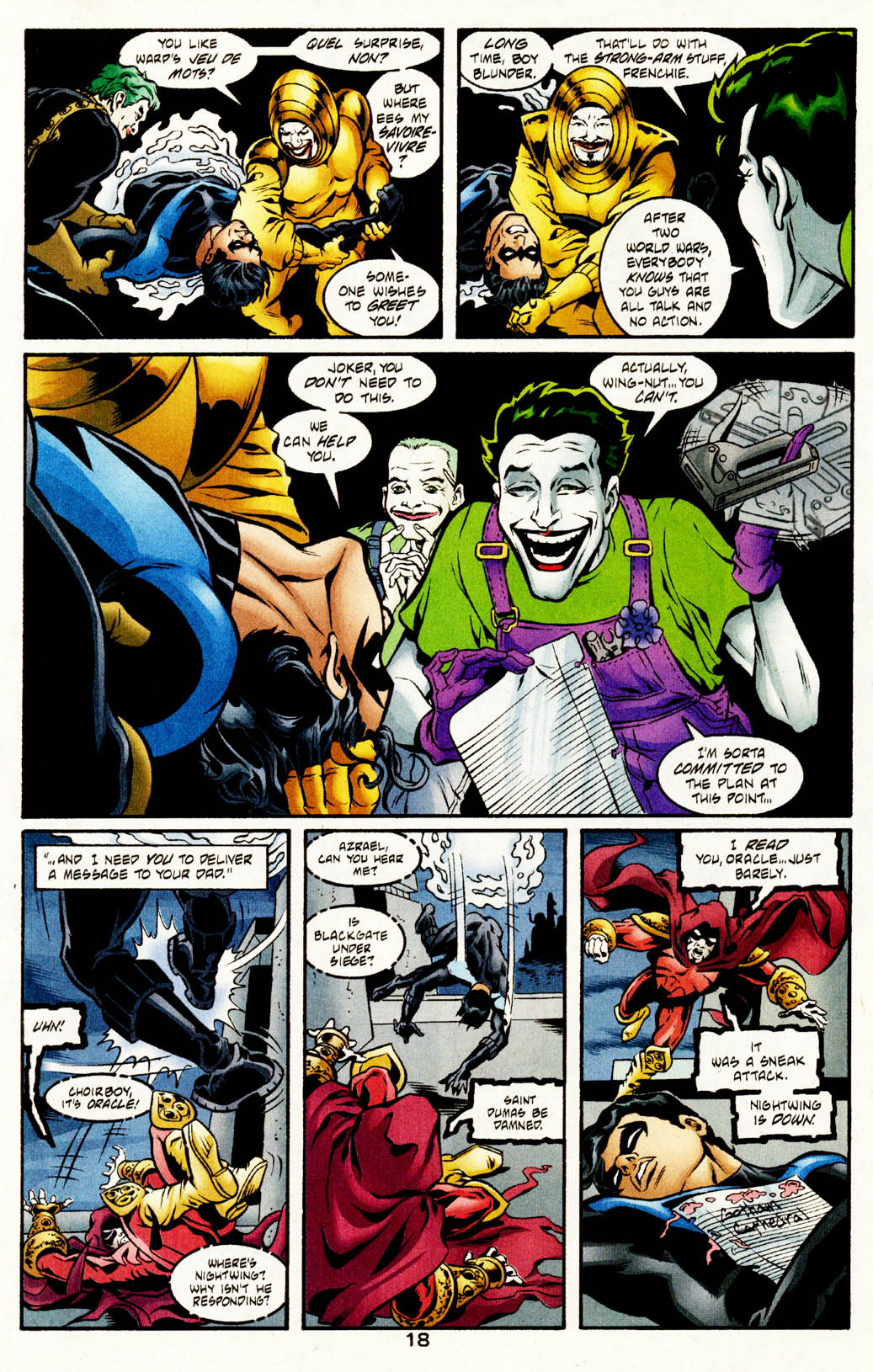 Huntress ezalatt behatolt az Arkham diliházba, ahol rátámadnak a jokerizált őrültek. Oracle útmutatásával azonban sikerül elmenekülnie. Robin viszont még sehol.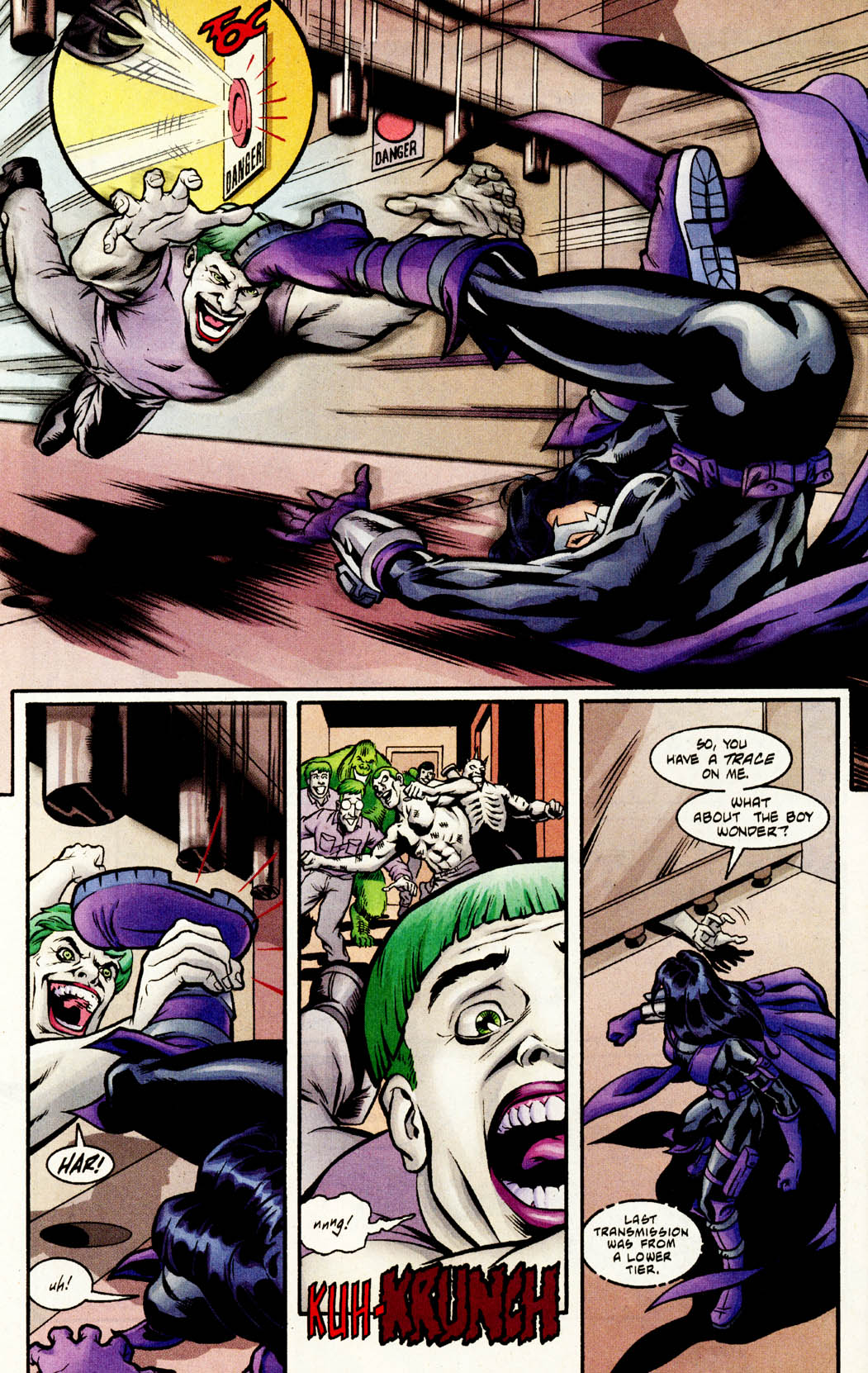 A SLABban eközben Shilóék rátalálnak Multi Manre, akit még az elzuhanó Black Mass nyomott agyon az előző füzetben (csak nem írtam róla), és most végre normál méretben támadt fel. Itt az idő hát, hogy addig lődössék agyon, amíg nem lesz megfelelő szuperképessége.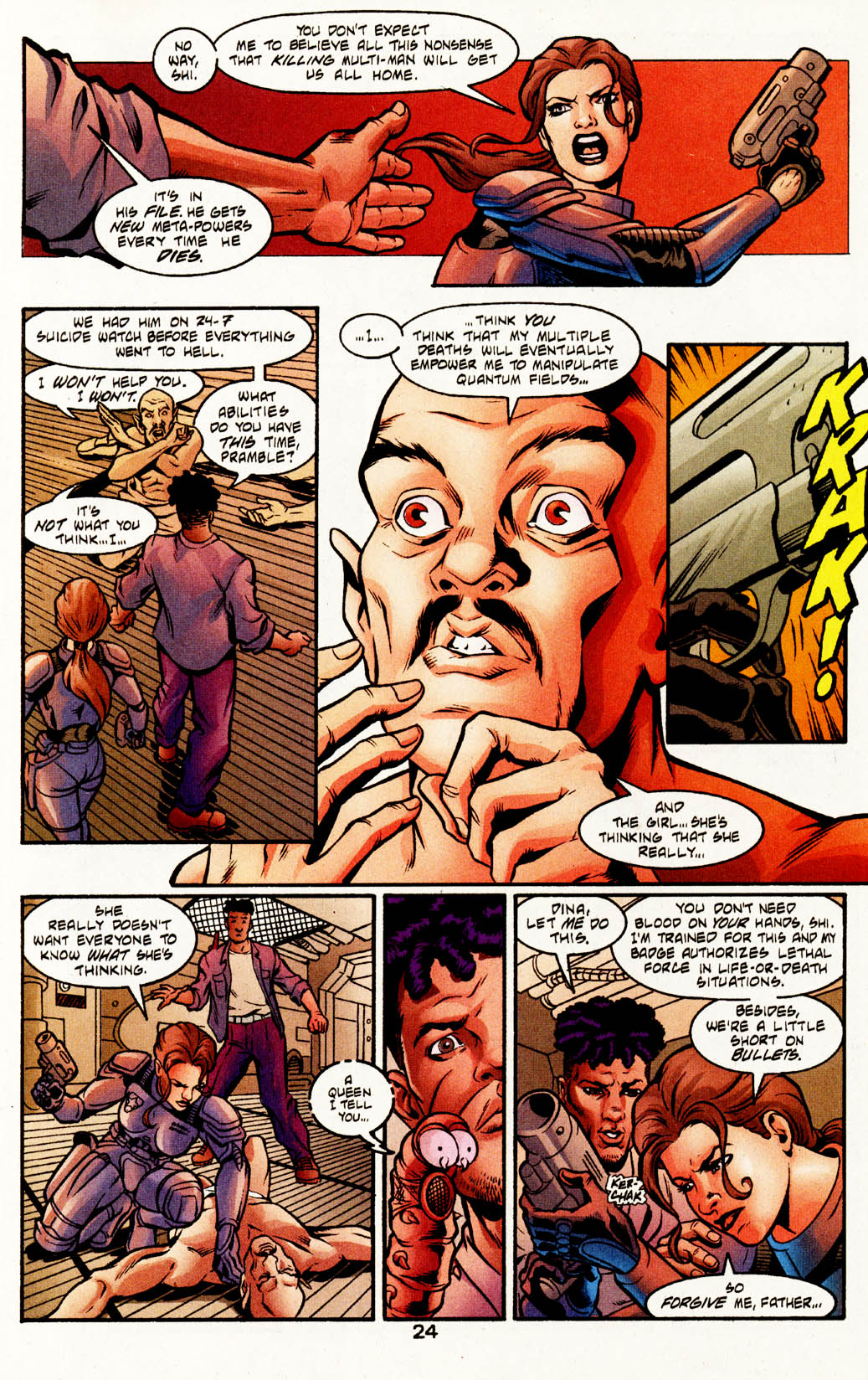 Huntress már a pincében jár, ez Killer Croc búvóhelye.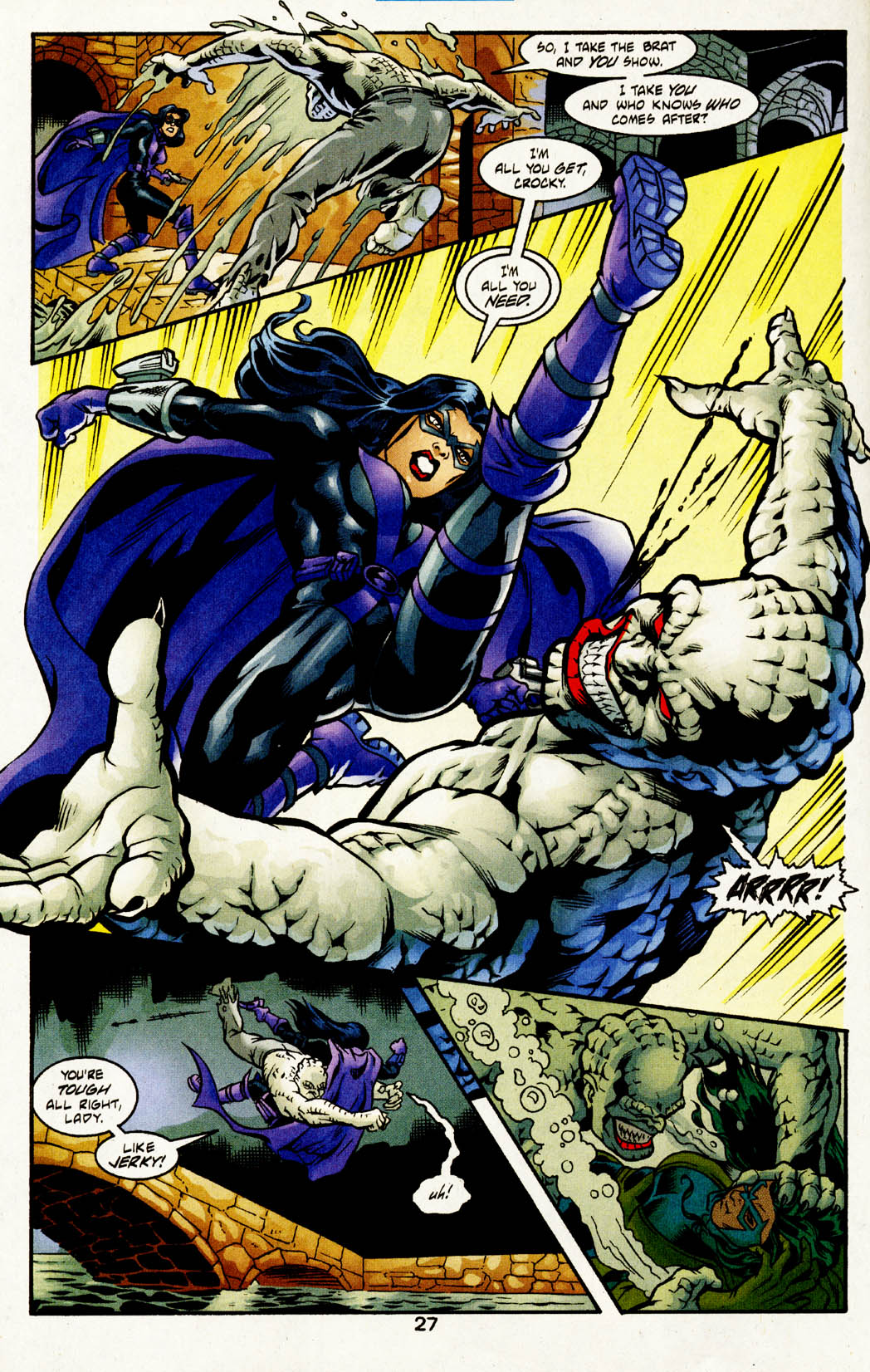 A vízben bunyózva megpillantja Robin széttépet ruháját.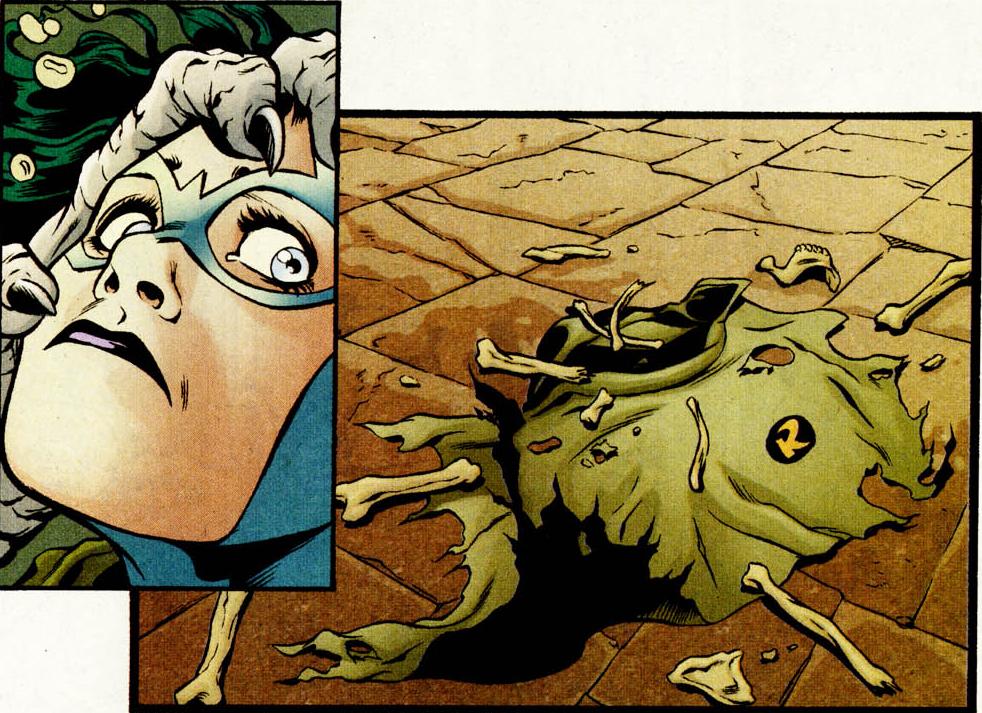 Ezen kellően feldühödik,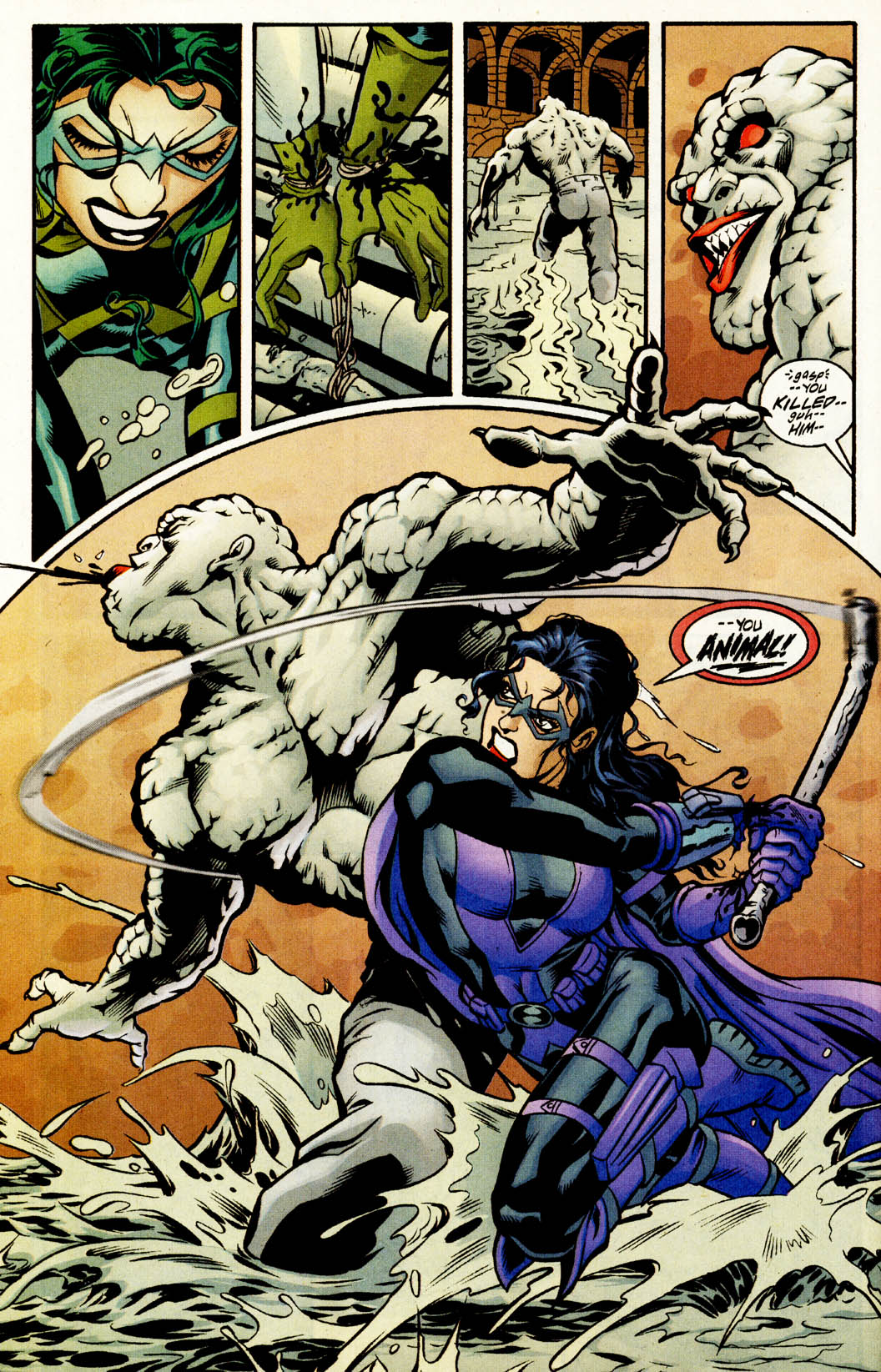 és lerendezi Killer Crocot. Mi meg aggódhatunk Robinért (végül is egy már elhunyt belőle, miért ne lehetne kettő is?)
Bár a cselekmény nem igazán haladt előre, Chuck Dixon és Scott Beatty elég szórakoztatóan szőtte a sztoriszálakat. Az mindenesetre már nyilvánvaló, hogy a globálisnak indult történet csak visszatér Gothambe, és egy Batman-Joker összecsapás lesz belőle (Hát ezért nem lett krízis). Elég csúnya dolog viszont, hogy az előző füzet cliffhangeréből, az őrült esőből gyakorlatilag semmi sem lett (egy kockányi időjárásjelentésen kerül elő), noha ez virított még a címlapon is. Ron Randall rajzai is élvezetesek. Néhány arckifejezéssel ugyan meggyűlik a baja,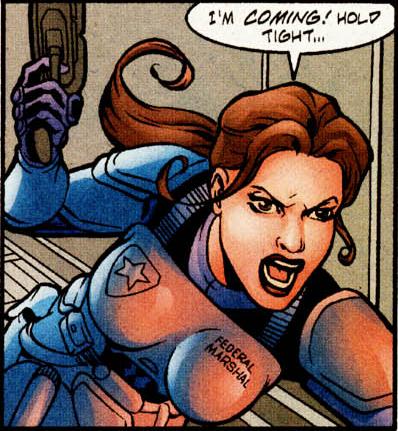 de általában azok is rendben vannak.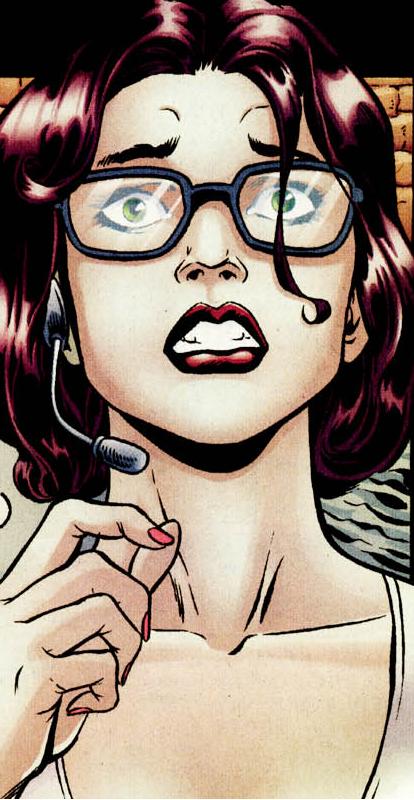 A Huntresses oldalai meg kimondottan jól sikerültek (valahogy Huntress minden rajzolónak fekszik).
Update: The English version of this post is here.