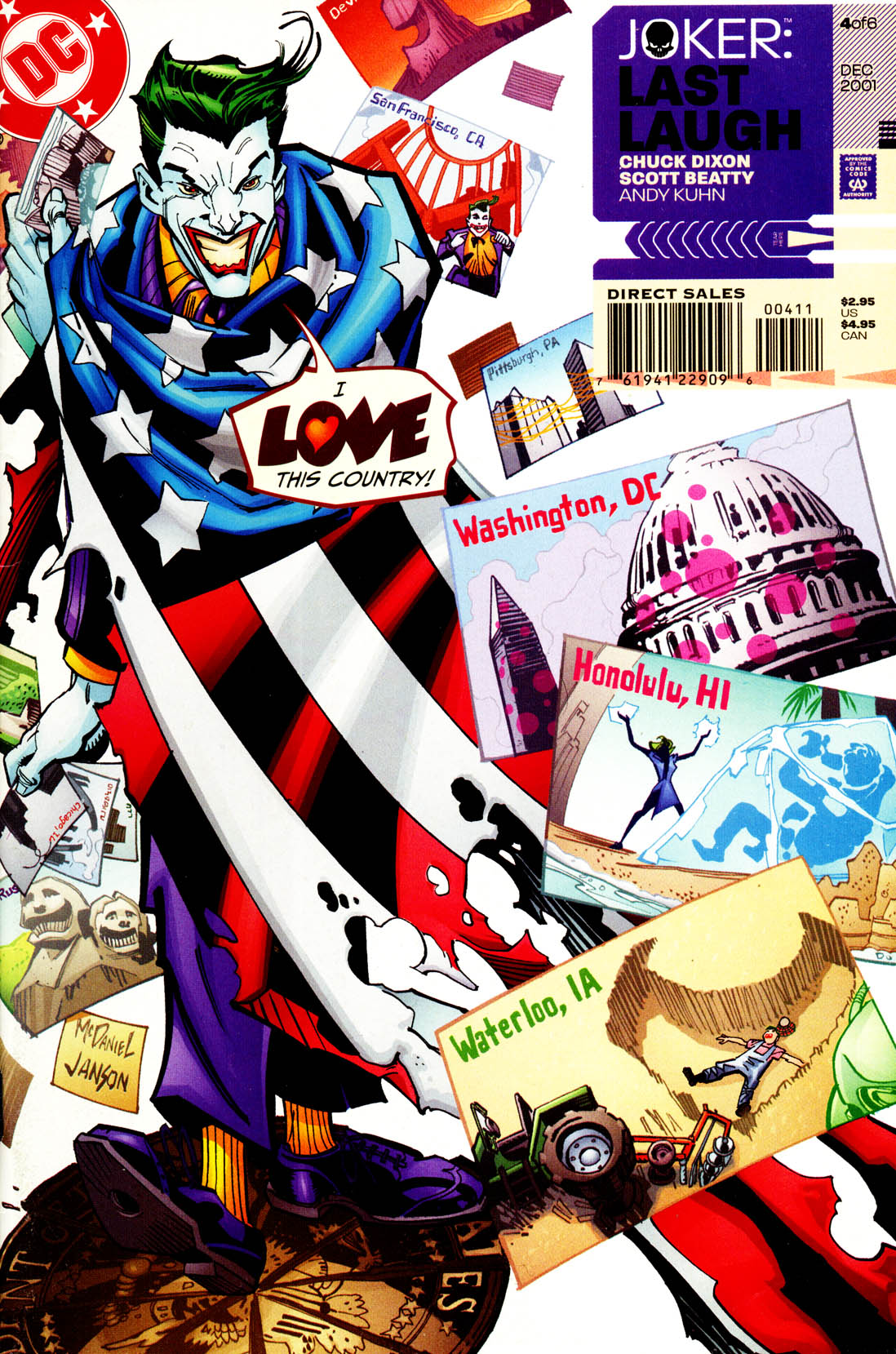 Mivel múltkor már kezdett leülni a sztori, Chuck Dixon hirtelen öt szálra bontva viszi tovább a cselekményt. Sajnos a legdominánsabb: a hadsereg Mace segítségével harcol a jokerizálódott szupergonoszok ellen, a legkevésbé érdekes, ez nem más mint non stop akció a lehető legizgalommentesebben előadva. (Egy picit még Batman is akciózik, illetve néhány szupergonosz Deadshot vezetésével behatol az Arkham elmegyógyintézetbe.)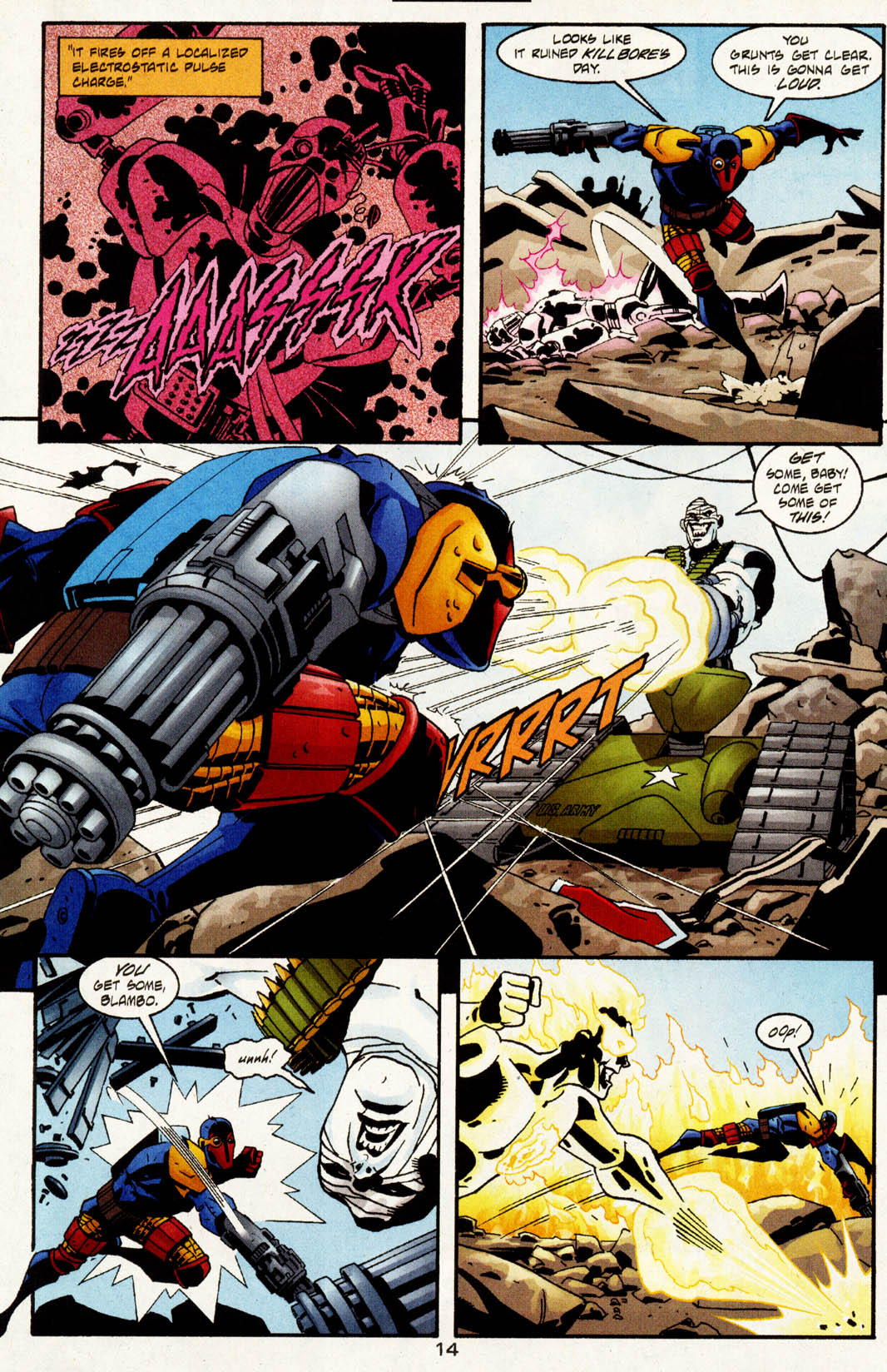 Dina a marshall (nem Dinah a Kanári) és Shilo, aki néhány szupergonosszal (Black Mass, Multi Man, Mister Mind) a semmi közepén lebegő SLABban rekedt, megpróbál kijutni. A marsi agykukac, Mister Mind felajánlja számukra a segítségét, de Black Massra is szükségük lesz, akit azonban Dina véletlenül fejbe lő.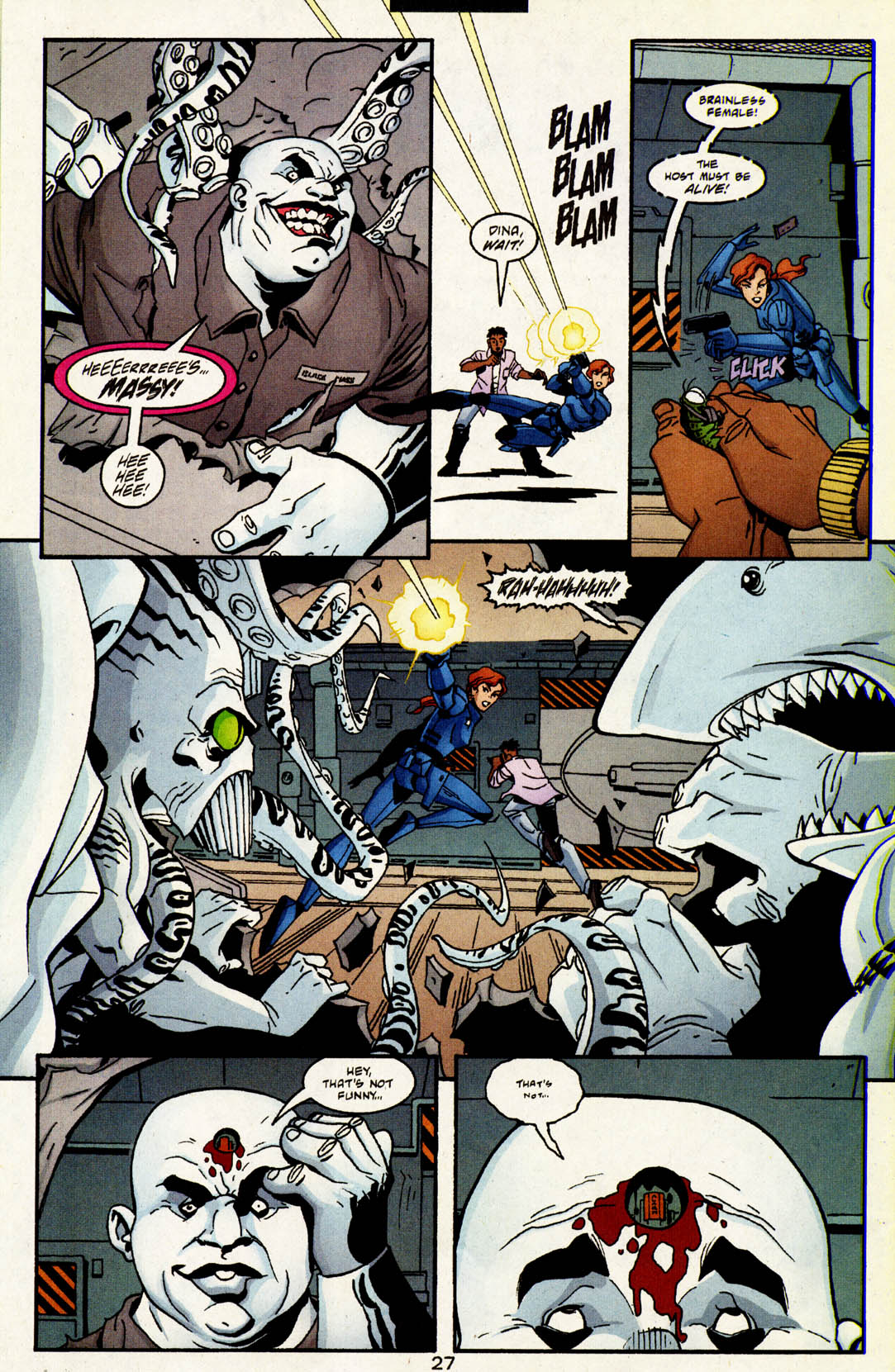 Harley Quinn a STAR laborban próbálja előállítani a Joker méreg ellenszérumát, ez néhány poén után sikerrel is jár.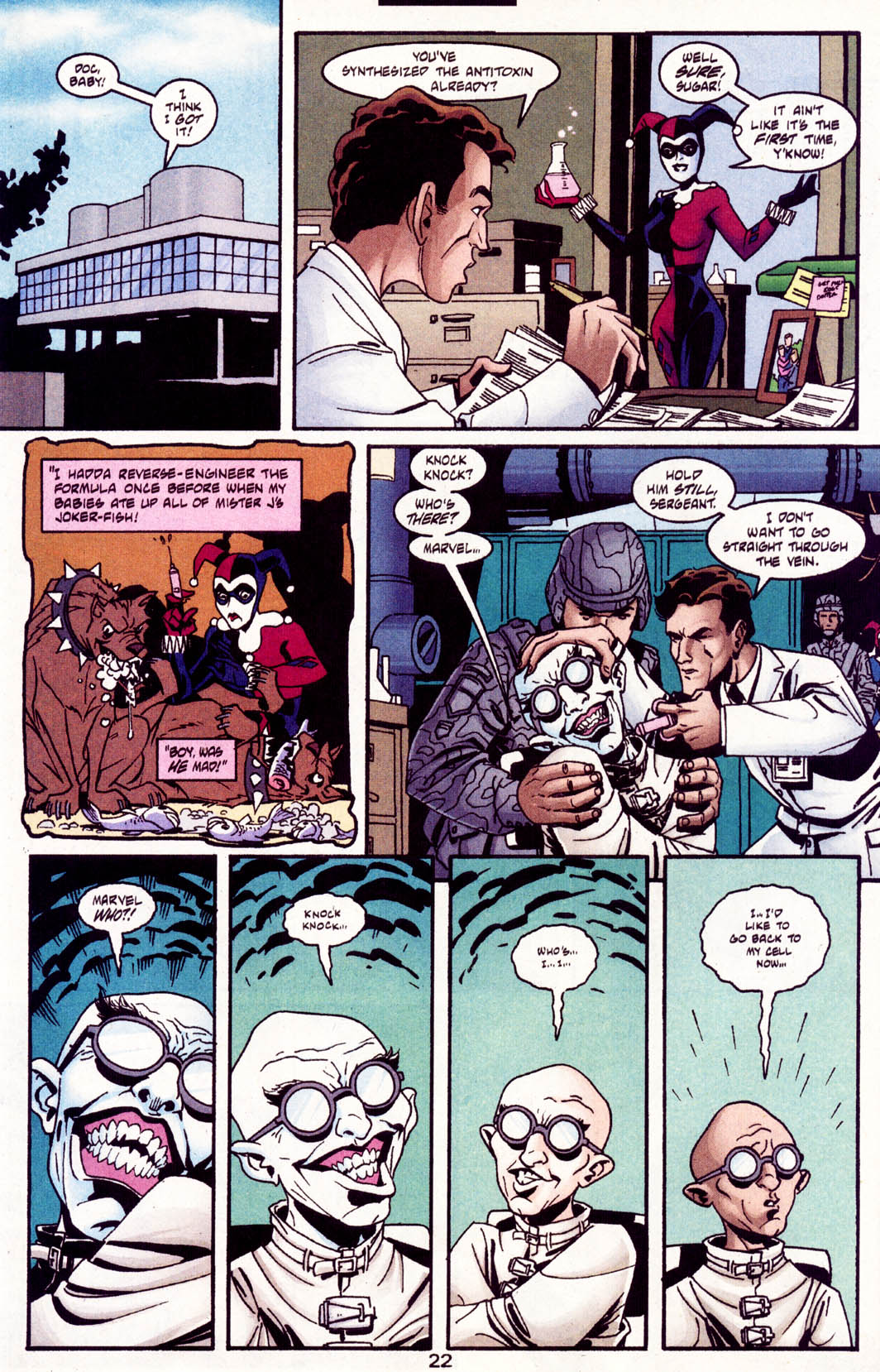 Dinah felkeresi a dokit, aki az agytumort diagnosztizálta Jokernél, hogy több részletet tudjon meg, de kiderül, hogy az egész csak rossz vicc volt. A doki csak kitalálta az egészet, mivel kíváncsi volt rá, hogy hogy reagál a hírre Joker. Végül az utolsó szálon Joker a Húsvét szigeten készül a visszavágásra Lex Luthor elnöknek.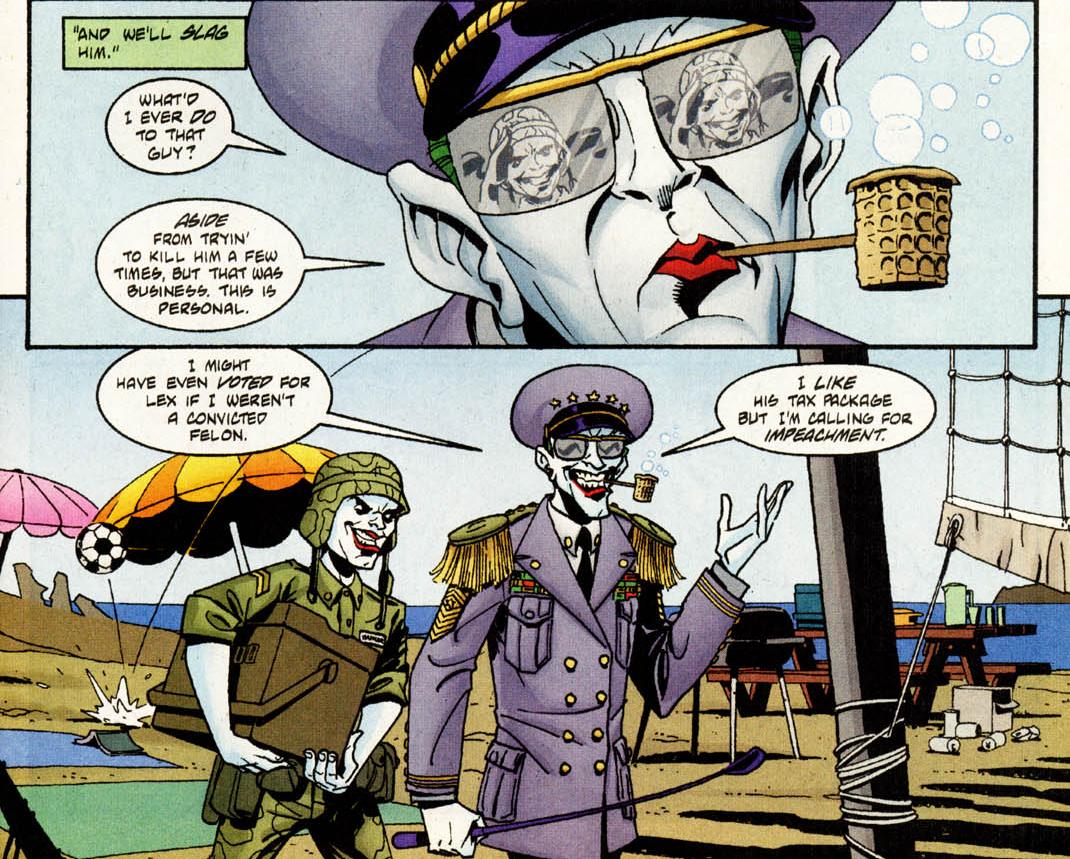 Ez leginkább baromkodásban merül ki, egészen az utolsó oldal Cliffhangeréig, amiben kiderül, hogy egy Joker-gáz esőfelhőt indít el Amerika partjai felé.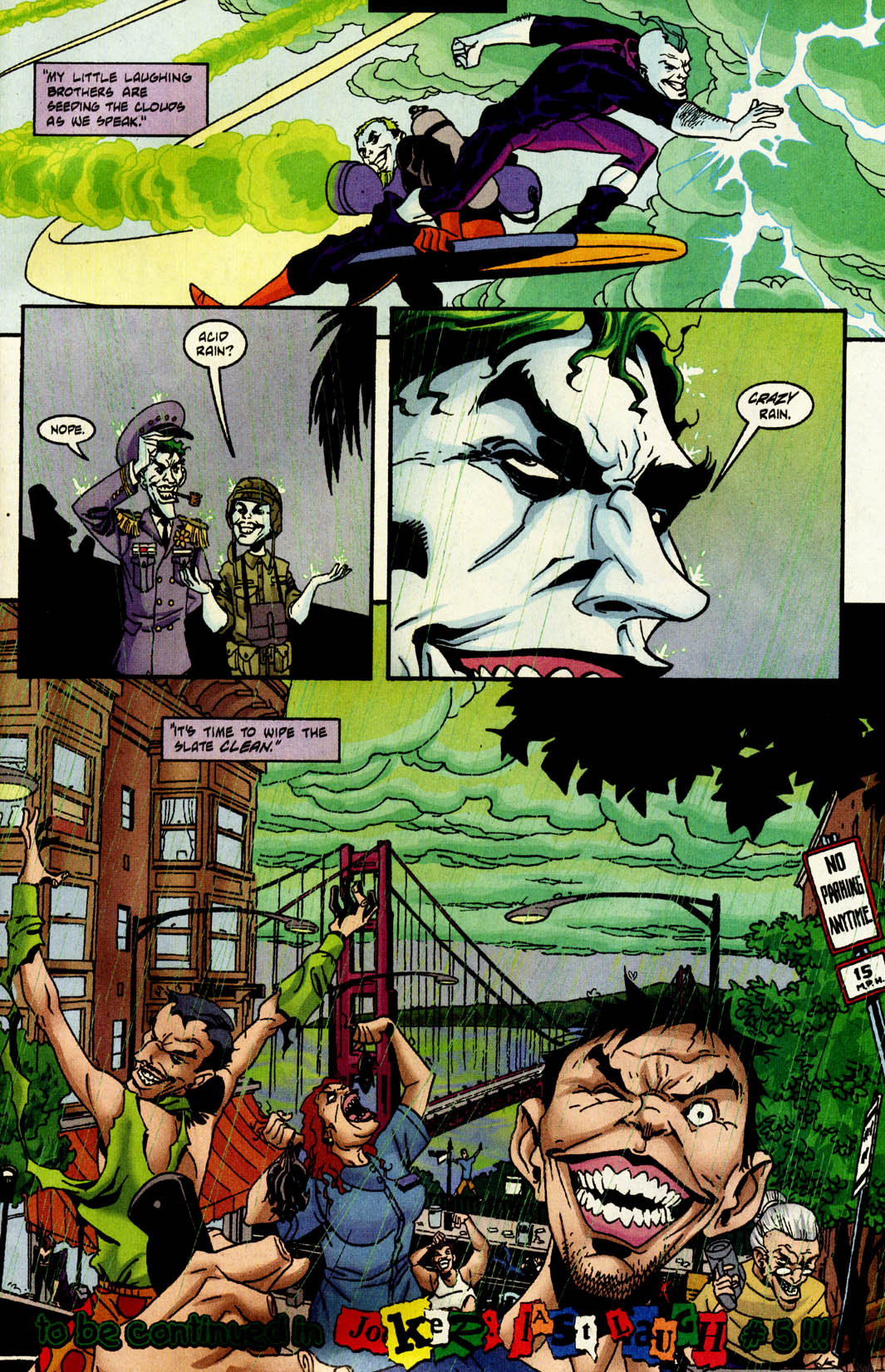 Hát szóval hiába az öt szál, a füzet túlnyomó része alibizés volt, de legalább a Joker féle poénok nem voltak olyan unalmasak mint Mace akciói. A cliffnager azért jó volt a végén, kár hogy már tudjuk, hogy Harley előállította az ellenszérumot, így annyira nem aggódunk miatta. A Joker mégse halálos beteg fordulatot akár jónak is mondanám, hogyha nem lett volna már az elejétől nyilvánvaló, hogy Jokert, a DC egyik legjobb főgonoszát úgyse nyírják ki. Az egészből egyértelműen a Dina-Shilo szál emelkedik ki. A rajzoló megint új, Andy Kuhn. Az akció jelenetei kellően dinamikusak, viszont az alakjai és főleg az fejei már túlzottan karakteresek, mondhatni torzak, ez leginkább a lányoknál szembetűnő.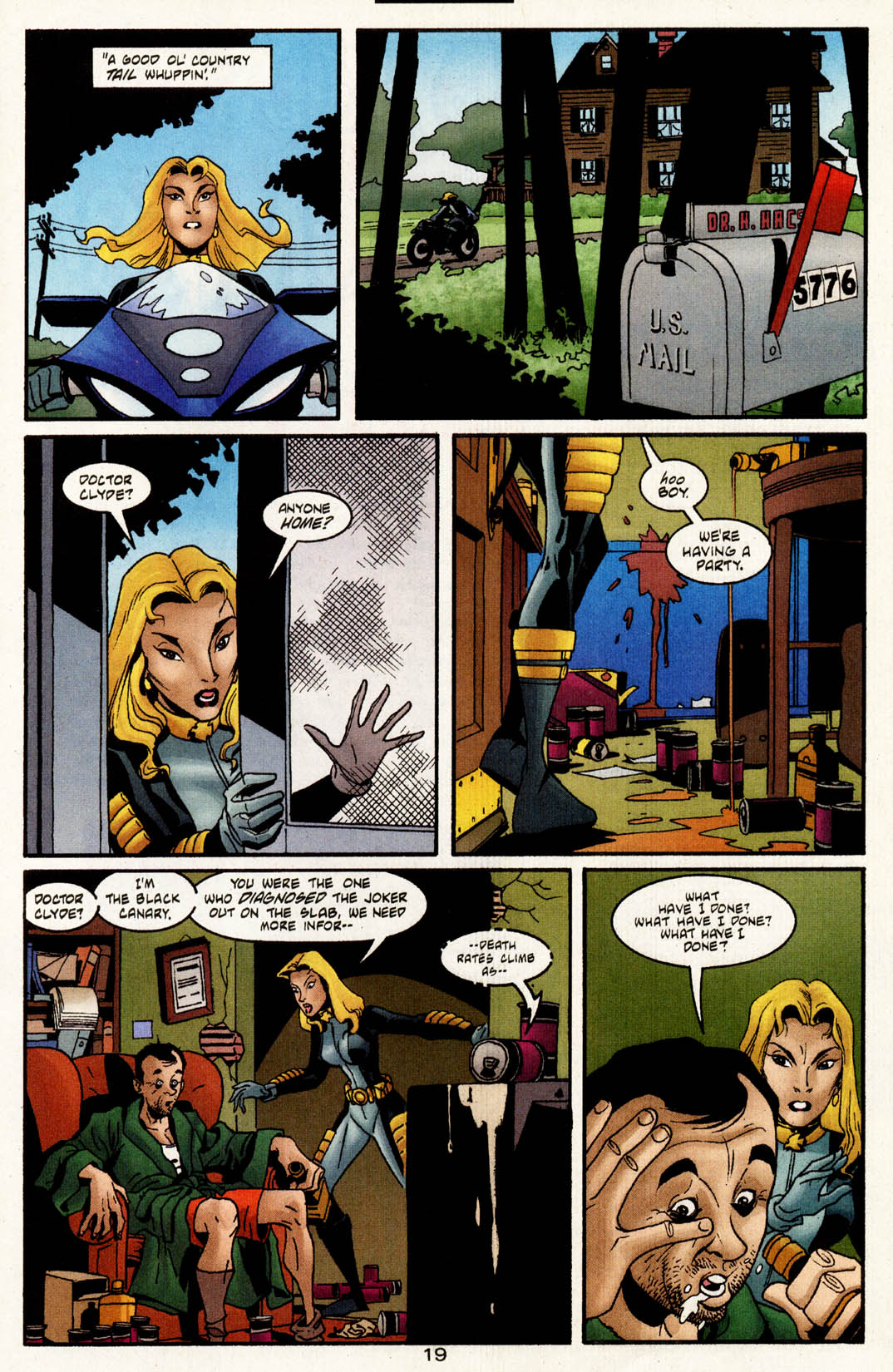 Szolgálati közlemény: Az összes jokerizálódott szupergonoszt megemlíteni lehetetlen, de azért jöjjön néhány, akiket betagaltem. Mace Cerberusszal, Barrage-dzsel, Náci Kaptiánnyal, White Dragonnal, War Jackkel és Kilg%re-ral küzd. Batman Doctor Lighttal bunyózik. Harley Quinn Bolton, Floronic Manen és Doctor Sivanán kísérletezik az ellenszérummal. Joker Stormfronttal hozza létre a joker-gáz felhőt, és Rancor a szárnysegédje.
Update: The English version of this post is here.